Amédée La Fosse 1892-1893
- successor Jules N. Steiner
Marie La Fosse 1893-1899
- widow of Amédée, successor J. N. Steiner
La Nicette 1924-1946
- cloth felt dolls by Gaston Casimir
Camille Lacombe doll shop A l'Arlequinade 1849-1851
D. Lacouchy 1863-1882
Lacourtille Factory doll mark crossed swords 1771-1840
Lady Fashion Dolls ca. 1860s-1930
Galeries Lafayette department store 1895+
André Lafitte doll mark Vita 1917
Lafitte & Désirat wax dolls 1900-1920
Laflex doll mark 1955+
Théophile Lamagnére 1882-1900
Andre Lambert doll mark Zina 1924
Cecile Lambert doll mark Babet 1921
Leopold Lambert & Bourgeois doll mark LB 1886-1923
- address 13 Rue Portefoin, Paris
Lamorlette dolls 1839-1846
Lamousse dolls 1870-1882
Emile Lang cloth dolls 1915-1924
doll mark E.L. Manufacture Français Jouettes Tissue Systém Breveté
Georges Lang doll mark Benjamin, Benjamine 1929
Lang-Guillemaut cloth dolls 1920s
Langlois dolls 1861-1862
Mme. A. Laniez A La Poupee Lughonnaise doll shop
- Luchon - 34 Allée d'Etigny, sold Eden Bebe
Lanternier et Cie 1855-1924 Limoges, France
Laquionie & Cie 1919
doll marks Joli Guy, Muguette, Rosette
Charles Amédée Larbaud dolls 1860s-1865
Lardot-Praquin 1867-1882
L'Arlequin Cie cloth dolls 1925-1930
- 6 Rue Duhesme, Paris
L'Association des Petits Fabricants doll heads 1914
Charles Laumaunier doll mark C.L. 1882
Baroness Laumont 1914-1921
Jeune Laurens & Dugourjal 1856-1858
Lavallée-Peronne Doll Shop 1865-1870 Paris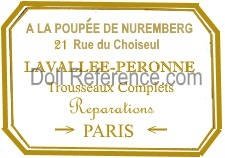 A la Poupée de Nuremberg, 21 Rue de Choiseul,
a wood & kid body doll sold w/address of doll shop
Lavoisier & Fils doll & toy manufacturers 1881-1888+
doll mark a kite symbol Au Gros Volant Bleu A et L. L.
Mme. Stéfania (Thabée) Lazarski dolls 1914-1939
- 17 Rue Boissonade & 83 Faubourg. St. Honoré, Paris
Atelier Artistique Polonais (Artists Workshop Poland)
at 60 Rue Gay-Lussac, Paris
made Mascotte, Bébé Marcheurs, kid, cloth, wax dolls
Le Magasin des Enfants lady doll label, Paris
Le Maire doll & toy store No. 2 Rue Chapon, Paris 1823+
Le Minor celluloid dolls 1936-1940s+
Le Montréer Fréres 1867-1921
- doll mark LM, le Trottin, Le Victorieux
Ange Le Prince doll mark Scaramouche 1924
Les Arts du Papier doll mark A.P. Paris, La Mignonne 1919
Les Bébés de France Cie doll mark BF 1919-1921
Mme Stapfer Rachel Lebel doll mark Patria 1916
JD Leblond India rubber manikin dolls 1853
Lecomte & Alliot 1866-1900
E. Leconte & Co. doll mark LC + an anchor
Alexandre Lefebvre & Cie 1863-1921 (SFBJ)
doll mark Bebe A.L., B.L Paris, B 12.L
E. A. Lejeune 1878-1880
Louis Aimé Lejeune doll mark set of wings 1915
Yvonne Lelièvre doll mark Lisette 1922
M. V. Lepinary doll mark Le JouJou Français 1919
Leredde & Sonnet doll mark MS depose Paris 1888
A. Leverd et Cie dolls 1852-1867
- renamed La Gutta Percha 1867+
Leverrier Pandora Shop doll mark Pandore 1915-18
also by Valentine Thomson
Edmond Levi doll mark Les Poupées De France 1919-1921
Albert Levy doll mark Tanagra 1917-1921
Pierre Levy & Cie doll mark Bébé Bijou 1919
Mme. Leydel 1828-1850s
Louis L'Heureux doll mark L'Heureux 1905
L`Hotel de Ville store 1900-1929+
- 1909+ Bébé Réserve, 1918 Bébé Arc-en-Ciel,
1918 Bébé Drapeau dressed in WW I allies flag,
1921 Bébé B.H.V, Bébé Rivoli, Bebe Géant,
Bebe a la Mode, Bebe Fruits
Edmund L'Hotte La Patrouille dolls 1911 Bois-Colombes
doll mark E.L.
Ligue du Jouet Francais 1914-1916
Michel Lilienthal doll mark Miss Dancing 1922
JD Lilas on a shield bisque head doll mark
L'Oncle Hansi dolls 1917-1920s
Hansi doll mark La Prialytine Paris
8 1/2" Yerri & Gretel + others
Genevieve Loudouze doll mark Ninon 1925
Mme. Jeanne Louit dolls 1916
- doll mark Poupées Gauloises
Grand Magasins du Louvre store label 1855-1930+
- Bebe Louvre 1880s, Bébé Baptême 1885
Mme. Julienne Lubecka doll mark Bicot
Ludet dolls 1864-1890
Lyons French Toy doll mark rooster in a circle 1919