Louis Dalloz fashion Lady dolls 1868-1889
- sucessor to Duval-Denis
Damerval Frères & Laffranchy dolls 1910-1917
- doll mark Montreuil France DL, DL
registered doll tradenames Joli Bébé, Bébé Mignon
Danel et Cie 1889-1895 (Jumeau 1896, then SFBJ 1899)
Edmond Daspres dolls 1902-1908
- successor Jules N. Steiner 1904-1908
Robert M. Darcy turtle leather Mon Fétiche doll 1928
D'Autremont China dolls mark 1858
- doll mark Paris 6 Rue De Dauphin 6
Mlle. Aline De Brzeska art doll mark Lutetia 1922
Mme. Jeanne De Kasparek art dolls 1922-1930
registered doll trademark Sans Rival
- doll mark coat of arms with a crown crest
Max Henri Marie De la Ramée doll mark Ma Jolie 1917
De Raphelis-Sossian doll mark Jeanne d'Arc 1920
Georges De Rousey de Sales 1917-1920
- doll mark Liberty, Expression, Modestes, Espiègels
De Stoecklin & Gaston doll mark 1920
- Poupées De Paris, Les Poupées Parisiennes,
Les Poupettes
Yves De Villers doll mark Poupée Raynal 1924-1926
Renée De Wouilt doll mark sunburst star W 1916
Debailly dolls 1846-1852
M. Decré dolls 1885-1890
J. Decoster bebes 1890 Paris
- doll mark J. DeCoster
Henry Delcourt doll mark Tanagra 1926+
Louis Dedieu, mascot doll mark De Liauty 1927
Defosse dolls 1833-1852
Dehais mechanical dolls 1836-1921
- doll mold 106, mechanical dolls,
poupards (doll without legs), Marottes,
Folies, Polichinelles (clown doll)
- 1890-1921 Louis Marie Renou successor
Mme. A. Dehors doll mark AD 1860-1890
- heads probably by A. Bouchet AD mark
Louis Delachal doll mark LD 1890-1904
B. Delacoste & Cie doll mark D inside oval 1914-1928+
- successor of B. Derolland, rubber bebes
Henri Delacroix dolls 1865-1887
- doll mark Paris HD, GD Paris, XS Paris, Pan Paris
Madame Delaunays dolls 1839-1866
Mlle. Léontine Delbosque 1876-1889
Mlle. Delcros dolls 1866-1873
Delero dolls 1871-1874
A. Delestaing or Delestang dolls 1864-1870
Delfour dolls 1870-1880
Alexandre Delhaye Fères doll mark AD 1900-1912
Marie Demarest doll mark Poupée Sanver's 1908
Etienne Denamur 1857-1898
DEP Dolls ca. 1880s+ - depose, déposé
Grange Depiesse 1890-1921
Basile Derolland 1860-1928+ Ansiére-sur-Oise
- rubber bebe doll mark D inside a circle
Alexandrine D'Erophine doll mark Ad'E 1886
M. Hubert Des Loges doll mark H.C.L. 1916
Denis DeSaint doll maker 1842-1865
Mlle. Desaubliaux cloth doll or shoes mark Gallia 1915
- L'Assistance par le Travail, Oeuvre du Travail à domicile
Maison F. Deschamps 1847-1895
- Maison DESCHAMPS 5 rue de l' Echelle
Desiré & Lamane dolls 1893
Desmee dolls 1844-1846
V. Desportes bisque head dolls 1876-1885
Th. Desrosiers wax dolls 1867-1881
- then Assuérus & Desrosiers 1881
Léon Desty dolls 1869
Deuilly dolls 1881-1885
L. Devanaux dolls 1878
D'Hostique dolls 1885-1889
Digoit dolls 1869-1889
L. Doléac & Cie doll mark LD 1881-1908
- Polichinelles, Marottes dolls
Doll Glossary, doll terms explained
Maison Dorée department store 1900-1901 Paris
- doll trademark Bebe Maison Dorée
Mme. Germaine Douche 1928-1930+
- doll marks Colette, Puppet's Mary
Isidore Dreifuss dolls 1921
- doll mark La Poupée Ideale Fi-Fi
Paul Dubois dolls 1919
- doll mark Entrée des Alliés a Strasbourg
Dubois dolls 1889-1890
André Duclos dolls 1855-1921
Madame Ducrey dolls 1880
Dumas-Bohan dolls 1836-1852
E. Dumont doll mark ED 1843-1889
Dumontois dolls 1865-1879
Dupont dolls 1840-1868
Mme. Max. Duran 1915
- doll mark MD inside circle; Duran Marx
Marie Louis Durand dolls 1920
Octave Durand doll mark Tanagrette 1921
Duval & Dizengromel dolls 1930+
Duval-Denis doll maker 1861 and 1863
- successor to Claude Blampoix Sr.
Fannie E. Duvall cloth dolls 1916-1918
- doll mark CREE par FANNIE DUVALL,
OUVROIR, 180 Rue de G
Eden Bébé Paris 1890-1899
- see Fleischmann & Bloedel
Mme. Egret nanking dolls 1874-1884
Elpikbien doll mark CO around spoke wheel 1921
Falck et Roussel dolls 1885-1899+ SFBJ No. 31
Maison Farcy dept. store 1927-1930 Paris
M. Fauche doll mark Manos 1916
Eugéne Fillaux Doll Shop Au Poupard 1901-1904
doll mark label Au Poupard, 15 Rue de Sérves
Fleischmann & Bloedel dolls 1873-1899+ (SFBJ)
René Foucher doll mark tower, windmill, date unk.
Foucher-Boyer doll shop 1890
A La Renommée des Poupées Sablaise
F - continued above
F - continued
Blanche Fouillot doll name L'Idéal 1906-1925+
Mme. Fouquet dolls 1925-1930+ Paris
Fouquet & Douville dolls with moving eyes 1891-1893
- doll mark FD 11, F is backward
Consuélo Fould poupées 1919+ Paris
- doll mark Les Victorieuses
France doll mark - various or many, unknown
French Fashion Importing Ninon dolls 1930s
Arnould Gaillard doll mark 17 Rue De Rome Paris
P. J. Gallais & Cie of Paris, France 1917-1925
- Gallais doll mark PJG
Mlle. Gaudinot dolls 1865-1870 Paris
Mlle. Gaudinot & M. Popineau doll mark G.P. 1866+
J. Roger Gault La plastolite dolls 1916-1918 Verleger
- also bisque doll heads from Limoges, FR
Francois Gauthier dolls 1860-1899+ (SFBJ)
- then Francois Gaultier dolls 1875-1899+
Gauthier dolls 1863-1872 unrelated to above
Blanche Gautier Les Poupées celluloid dolls, date ?
GéGé Dolls mark GeGe dolls of France 1933-1979
- owner Marius Germain Giroud
G. Geoffroy doll mold 226, dates unknown
Genty Bébé de Paris dolls 1899-1930+ (SFBJ)
- successor of Rabery & Delphieu
Gerbaulet Frères dolls 1910-1925+
- 35, 37 Rue de Turenne, Paris 3 arrondissement
- doll mark Le Coquet Bébé G.F., 1911+ Bébé Olga
- see also Ernst Ballu
Gerber & Teusch doll mark GT, dates unknown
Gerbs Poupée boudoir dolls 1927-1930s
- doll mark Poupees Gerbs, 29 Rue Gauthey, Paris
Eugene Gesland doll mark FG 1860-1928
- successor Joseph Ortyz (Ortiz) 1916-1921,
next successor H. Delcourt 1921-1925,
next Société Industrielle de Jouets 1926-1928
- Bébé E. Gesland, Excelsior Bébé
5 Rue Beranger 5 Paris
D. Giotti Etablissements 1925+ Nice, FR
- art felt doll mark Magali
Alphonse Giroux & Cie doll mark B # S 1860-1880
A. Benoit Gobert 1898-1899+ (SFBJ)
- Bébé Colosse, Bébé Le Préféré, Bébé Sublime
Gorguet doll shoes marked M.G. 1876-1890
- bébé, poupée accessories
Grandjean doll trade name Bébé Bijou 1887-1890
- doll mark - M - Paris GD 4
M. Ferdinand Gratieux doll mark Tout Va Bien
Gre-Poir cloth doll mark label 1927-1935, Paris, NYC
Jean Marie Guépratte dolls 1881-1898
- doll mark Bébé Soleil
Rémy Guerchoux dolls 1843-1852
Mlle. Marthe Guerin doll mark entwined ACN 1915
Pierre François Guillard doll shop 1835-1850
- successor Vve. Agathe Francheteux 1850-1866
- doll label A la Galerie Vivienne
Mons. Guillard & Le Maire
4 Rue des Petit Champs 4 Paris
- successors doll label Remond & Perreau 1867-1896
Louis Guillet doll mark Amour Bébé 1896
Silas Guillon Camelia art dolls 1925
- doll mark CAMELIA
Henry Guimmoneau & Cie 1879-1884
Maison Guyot doll maker 1889-1900
- doll mark label A la Tentation
Poupées & Bébés 22 Passage Vendome Paris
Guyot Bebes & Jouets 5. Place de la République
Aristide Halopeau H mold doll mark 1875-1889
J. Hameau / Hannebelle lady dolls 1909+ Paris
doll label J. Hameau, Rue De Tournon, Paris
- doll mark Par Hannebelle, Depose AH Paris
Marie Anne & Mon. Herbillion doll shop 1852-1866+
- Au Calife de Bagdad, 14 Rue de Choiser, Paris
Paris H.G. doll mark, on bisque heads, on bottom boots
Edmond Hieulle doll artist sculptor 1917 Paris
doll mark MSB intertwined on coat of arms shield
doll mark MSB intertwined
trademark names Parfait Bébé and Montreuil Bébé
Fernand & Paul Hirschler doll mark FPH 1919
Le Jouet Artistique Fabrication Français doll label
Le Jouet Artistique doll mark FPH
A. Hugonnard poupées universelles 1925-1929
doll mark A l' ancre
doll mark anchor symbol
Maison Adelaide Huret China dolls 1850s-1930s
- Huret doll mark No. 22 Boulevard Montmartre Paris
or Huret doll mark label 68 Rue de la Boetie
Mme. Vve Iriquet doll mark label, dates unknown
- 46 Place de Cormes Rouen
Israël & Prieur dolls 1921-1928 Paris
- successor L. Salomon 1928+
J and B boudoir doll mark JxB 1924+
J Déposé doll mark, late 1800s
Pierre Jaquet-Droz automata dolls 1768-1774
Elie M. Jean doll mark anchor EJ CAEN 1919
J - continued above
J - continued
Jules Joseph Jeanson dolls 1891 Paris
- doll mark 3, F, JJ with dots above, J.J in a square
Joseph Louis Joanny 1884-1921
- doll mark J..J or with a size number J.6.J.
A. Jobard dolls 1853-1855
Mme. A. Jomin doll mark A.J. pre 1925-1930
- successor J. Launay
Jouets de Strasbourg Joustra Toy Co 1932-1999
Leon Jugele 1843-1844
Jullien doll mark Jullien 1863-1899+ (SFBJ 1904)
- Bébé incassable, doll name L' Universal
Jumeau bébés 1842-1899+ (SFBJ)
see the Jumeau doll marks & mold page for more images
Lucien Kahn doll mark MOGLETTE 1926-1929+
Charles Keller, bébé Français 1877-1885
Marie Koenig dolls 1890-1914
J. César Koch dolls 1915
- doll marks Bébé Gloria, Lutecia Baby
Henri Orthon Kratz-Bossac 1892-1910

- doll mark La Parisienne, an eagle L'Aiglon
Alexandre Krohn dolls 1881-1898
- doll mark lion with doll between paws
La Bon Marché department store, Arlette doll
Amédée La Fosse 1892-1893
- successor Jules N. Steiner
Marie La Fosse 1893-1899
- widow of Amédée, successor J. N. Steiner
La Nicette 1924-1946
- cloth felt dolls by Gaston Casimir
La Place Clichy store 1896-1923+
- 1923 Bébé à la Mode
D. Lacouchy 1863-1882
Lacourtille Factory doll mark crossed swords 1771-1840
Lady Fashion Dolls ca. 1860s-1930
Galeries Lafayette department store 1895+
André Lafitte doll mark Vita 1917
Lafitte & Désirat wax dolls 1900-1920
Laflex doll mark 1955+
Théophile Lamagnére 1882-1900
Andre Lambert doll mark Zina 1924
Cecile Lambert doll mark Babet 1921
Leopold Lambert & Bourgeois doll mark LB 1886-1923
- address 13 Rue Portefoin, Paris
Lamorlette dolls 1839-1846
Lamousse dolls 1870-1882
Emile Lang cloth dolls 1915-1924
- doll mark E.L. Manufacture Français Jouettes Tissue Systém Breveté
Georges Lang doll mark Benjamin, Benjamine 1929
Lang-Guillemaut cloth dolls 1920s
Langlois dolls 1861-1862
Lanternier et Cie 1855-1924 Limoges, France
Laquionie & Cie 1919
- doll marks Joli Guy, Muguette, Rosette
Charles Amédée Larbaud dolls 1860s-1865
Lardot-Praquin 1867-1882
L'Arlequin Cie cloth dolls 1925-1930
- 6 Rue Duhesme, Paris
L'Association des Petits Fabricants doll heads 1914
Charles Laumaunier doll mark C.L. 1882
Baroness Laumont 1914-1921
Jeune Laurens & Dugourjal 1856-1858
Lavallée-Peronne Doll Shop 1865-1870 Paris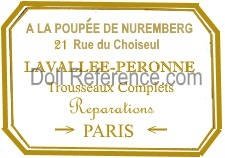 - A la Poupée de Nuremberg, 21 Rue de Choiseul,
a wood & kid body doll sold w/address of doll shop
Mme. Stéfania (Thabée) Lazarski dolls 1914-1939
located 17 Rue Boissonade & 83 Fbg. St. Honoré, Paris
- Atelier Artistique Polonais (Artists Workshop Poland)
located 60 Rue Gay-Lussac, Paris
made Mascotte, Bébé Marcheurs, kid, cloth, wax dolls
Le Magasin des Enfants lady doll label, Paris
Le Minor celluloid dolls 1936-1940s+
Le Montréer Féres 1867-1921
- doll mark LM, le Trottin, Le Victorieux
Ange Le Prince doll mark Scaramouche 1924
Les Arts du Papier dolls 1919
- doll mark A.P. Paris in circle, La Migonne
Les Bébés de France Cie doll mark BF 1919-1921
Mme Stapfer Rachel Lebel doll mark Patria 1916
JD Leblond India rubber manikin dolls 1853
Lecomte & Alliot 1866-1900
- E. Leconte & Co, doll mark LC + an anchor
Alexandre Lefebvre & Cie 1863-1921 (SFBJ)
- doll mark Bebe A.L., B.L Paris, B 12.L
E. A. Lejeune 1878-1880
Louis Aimé Lejeune doll mark set of wings 1915
Yvonne Lelièvre doll mark Lisette 1922
M. V. Lepinary doll mark Le JouJou Français 1919
Leredde & Sonnet doll mark MS depose Paris 1888
A. Leverd et Cie dolls 1852-1867
- 1867 + renamed La Gutta Percha
Leverrier Pandora Shop doll mark Pandore 1915-18
- also by Valentine Thomson
Edmond Levi 1919-1921
- doll mark Les Poupées De France
Albert Levy doll mark Tanagra 1917-1921
Pierre Levy & Cie doll mark Bébé Bijou 1919
Mme. Leydel 1828-1850s
Louis L'Heureux doll mark L'Heureux 1905
L`Hotel de Ville store 1900-1929+
- 1909+ Bébé Réserve, 1918 Bébé Arc-en-Ciel,
1918 Bébé Drapeau dressed in WW I allies flag,
1921 Bébé B.H.V, Bébé Rivoli, Bebe Géant,
Bebe a la Mode, Bebe Fruits
Edmund L'Hotte La Patrouille dolls 1911 Bois-Colombes
Ligue du Jouet Francais 1914-1916
Michel Lilienthal doll mark Miss Dancing 1922
L'Oncle Hansi dolls 1917-1920s
- Hansi doll mark La Prialytine Paris
8 1/2" Yerri & Gretel + others
Genevieve Loudouze doll mark Ninon 1925
Mme. Jeanne Louit dolls 1916
- doll mark Poupées Gauloises
Louvre Department Store 1855-1930+
- Bebe Louvre 1880s, Bébé Baptême 1885
Mme. Julienne Lubecka doll mark Bicot
Ludet dolls 1864-1890
Lyons French Toy doll mark rooster in a circle 1919