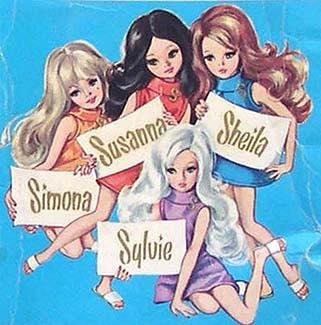 Luigi Furga Dolls 1950s-1970s Italy
The Luigi Furga doll company began in 1872 to present, the first dolls from Italian Furga factory were made of papier mache and wax masks. Then they imported bisque heads from Germany to be put on their dolls. About WW I Furga built their own porcelain factory for bisque heads and all bisque dolls. By 1929 Furga bisque heads rivaled those of Germany. They also made some pressed felt, composition and hard plastic and vinyl dolls. Furga dolls were always of good quality.
Early Furga dolls did not make it to the American market, but were exported to some South American countries and England. Furga dolls usually found in the USA, are generally from the 1960s-1970s, which were sold through Montgomery Ward, JC Penney, Sears and other catalogs (offsite link).
See the many Furga dolls identified below.
Vintage Furga Dolls - Bambola Identified
Furga Child Doll, 11" tall, composition head and body, very long eyelashes, blue sleep eyes, painted closed mouth, dark brown long hair. Wearing a beautiful gingham red and white check ruffled dress with white ruffled petticoat and bloomers, with a matching parasol. Doll is marked: Made in Italy O (O with a line under it). Clothing is marked: L. Furga.

Photo courtesy Verona.

Furga Child Doll 11"

Furga Red Riding hood doll or Cappuccetto Rosso doll, 17" tall, early Walker doll with a most unusual walking mechanism that has four feet, that literally walks when pushed, the mechanism is a separate cage that replaces the dolls lower body with four feet that rotate and "walk".

Red Riding hood doll, 17"

1964 Furga Tonia, 15" tall, vinyl head with rooted hair and lashes, sleep eyes, open mouth with teeth, jointed hard plastic body. Dressed in a beautiful velvet coat and skirt with marabou feather trim, marabou purse, gold tone necklace. Tagged L Furga Made in Italy.

1964 Tonia doll, 15"

1965-1967 Furga Alta Moda Dolls, 17" tall, all vinyl doll, big large sleep eyes with feathery long real eyelashes, long rooted hair, each dressed in a sleeveless shift with a gold tone S pin on collar and white slip on sandal shoes. Dolls are marked on neck Furga 17and just below the neck on dolls body: Alta Moda Furga.

Dolls are: Simona with blonde hair and beauty mark below her left eye, orange dress, Susanna with brunette hair, red dress, Sheila the redhead with blue dress and Sylvie with platinum hair in a lavender dress (seated front). Additional outfits were sold separately.

1965 Simona, Susanna,

Shelia & Sylvie dolls, 17".

1960s Furga Elisabetta doll, 15" tall, all vinyl, rooted hair open mouth, real eyelashes, dressed in pale blue velvet coat over a ruffled white petticoat, hat with fur trim, stockings, shoes, and a gold tone waist chain. She has wide sleep eyes in blue, rooted hair & lashes, and those cute two front teeth showing between her open mouth. Marked Furga, Made in Italy.

1960s Elisabetta doll, 15"

1960-1970s Furga Little Adrianna or Adrianna doll, 13" tall, all vinyl, rooted hair, real eyelashes, another beautifully dressed doll with great detail on the dress, petticoat, has a hat, parasol, probably stockings & shoes. She has wide sleep eyes in blue, rooted hair & lashes, and those cute two front teeth showing between her open mouth. Marked FURGA on neck, clothes Tagged L FURGA, Made in Italy.

1960-1970s Little Adrianna or Adrianna doll, 13"

1970s Furga Fashion doll, 19" tall, name unknown, this doll is a little more casually dressed, and still incredible, with beautiful cupid bow lips, wide blue eyes and a glorious mane of platinum long hair tied up in bows. Neck is Marked FURGA ITALY.

1970s Fashion doll, 19"