H
Gebrüder Haag wax dolls 1878-1925+
Hahn & Co doll mark Hanco 1921
Simon Hahn doll mark SIHA 1921-1923
Hamburger & Co. doll exporter 1889-1910 and USA
Hammer Munitionswerk, Hawadit doll heads 1920
Henrich Handwerck doll mark HH 1876-1932
Max Handwerck doll mark Dep Elite 1899-1925
Hannoversche Gummi-Kamm rubber dolls 1862-1926
doll mark a flying bird symbol
Harburger Gummiwarenfabrik rubber factory 1923
doll mark Phoenix Quick
Carl Harmus Jr. dolls & bears 1887-1930+
doll trademark teddy bear holding a doll in a triangle
Carl Hartmann celluloid dolls 1889-1930 Neustadt
Carl Hartmann doll mark 10593 Globe Baby D.R.G.M. C. Hartmann Dep 6
Karl Hartmann doll mark HK 1911-1926 Stockheim
Paul Hausmeister dolls 1909+ Göppingen, Germany
doll mark stork standing on one foot
Heber & Company bisque dolls 1900-1922 Neustadt
- doll mark mold 514 HC 17/8
Else L. Hecht art doll mark Hecht Puppe 1913-1926
Heine & Schneider 1920-1921 Bad Kösen
doll mark Puppenkunst Elisabeth Heine & Schneider Bad Kosen Saale or doll mark Schneider's Kunstpuppen Atelier Karl Schneider Bad - Kösen then became, see next
Gunther Heine doll mark 1921-1922
Therese Heininger dolls 1924-1925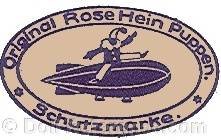 doll mark Rose Hein Puppen
Geschwister Heinrich doll mark Maya 1926-1931
cloth stuffed Art dolls
Alfred Heinz doll mold 650 in 1906-1926
Rudolph Heinz & Co porcelain factory 1858-1922+
then Neuhaus am Rennweg Porzellanfabrik Aelteste Volkstedter Porzellanfabrik 1922+ both used doll mark AV, PN doll molds 9500, 9501
Arthur Heinze mechanical dolls 1910-1911
Berthold Helk doll trademark BEHA 1918-1927
- doll mark Rinaldo, Torino
Adolf Heller doll mark A#H AHW 1909-1925
Adolf Heller AH doll heads by Adolf Hulss AHW
Alfred Heller doll mark Diana metal dolls 1901-1910
Heller & Seyfarth 1909-1916
Karin Heller, Karin Series cloth dolls 1980s W Germany
L. Henze & Steinhauser 1897-1925
doll mark Gehrenia girl with doll
doll mark Henza Original
Julius Hering & Sohn 1893-1923+ Köppelsdorf
doll marks JH, JHS, J.H & S, Victoria
Julius Hering & Weithase doll mark H & W 1902+
- 3rd name for Dressel & Koch
Hermsdorfer celluloid dolls 1925-1927
Gottlieb Herold Täufling dolls 1891-1921
- dolls with Pa-pa Ma-ma voice box
Hertel, Schwab & Co doll mark 1910-1930s
- also called Stutzhauser Porzellanfabrik
Hertwig & Co doll mark 1864-1941 Katzhütte
Herzpuppen Fabrik doll mark HPF 1923
Albin Hess doll mark 417 ASH 1918-1923 Thuringia
Ernst Heubach 1887-1932 Koppelsdorf, Sonneberg
Friedrich A. Heubach doll mark 1900-1926 Sonneberg
Gebrüder Heubach dolls 1840-1938 Thuringia
Gustav Heubach doll mark GH 1923-1937+
- see Erste Steinbacher Porzellanfabrik
doll mark 510 Ge & H 7/0
Hugo Heubach dolls & toys 1894-1925+ Sonneberg
doll mark frog on bicycle
Julius Heubach porcelain factory 1868-1910 Lauscha
- in 1910 became Max Buchhold porcelain factory
Heubach, Kampfe & Sontag 1763-1897 Wallendorf
- Wallendorf Porzellanfabrik, cradle of Thuringia.
then 1897-1918 Kampfe & Heubach bathing dolls
found on china doll mark W, W 2/0
Bernhard Heublein doll mark 123847 in 1901-1909
Hermann Heyde doll trademark HH, HHD 1867-1920
Annette Himstedt 1986-2008
Christian Hopf doll mark CH 1885-1984+ Neustadt
- doll mold 486 Elisabeth
H. E. Hopf composition doll mark Libra 1924 Neustadt
Carl Horn doll trademark CHND 1906-1930+ Dresden
- made tiny 1 1/4-3 1/2" Lilliput all bisque dolls, animals
Theodor Hornlein doll mark TH 1879-1925+
doll mold 142
Adolf Hulss or Hülß 1913-1930s Waltershausen
- doll mark AHW, looks like ARW or AßW
doll mold 156, 157, 158, 176, 1400
doll trade name Mein Nesthakchen, my nesting baby
Dr. P. Hunaeus celluloid dolls marked PH 1900-1925+
Carl M. Hutschenreuther Factory 1814-1930+ Hohenberg
doll mark JHR intertwined
Huttinger & Buschor doll mark Casadora 1920-1928
B. Illfelder & Company 1870-1901, Illfelder Spielwaren dolls 1901+
Fürth, Bavaria and New York City, USA
doll mark 101 My Sweetheart B.J. & Co.
doll mold 30, 101
doll names Little Sweetheart doll BICO, Merry Widow doll,
Rosebud A.M., Our Rosebud, 501 Nippon, B.J. Nippon
I - continued above
I
Leopold Illfelder & Co wax dolls 1882-1894
Carl A. Illing doll mark ILLCO, JLLCO 1925-1930+
Ilmenauer Porzellanfabrik 1777-1930
doll mark star symbol J 1777, I, J, JPF, a trefoil
Ferdinand Imhof walking dolls 1898-1909
doll mark D.R.P. No. 119857 Patent Landep,
France - Patent Brevete 305-269 SGDG
Indra Kunstwerkstatten doll mark Indra 1922-1923
Insam & Prinoth wood dolls 1820-1930s
J
Julius Jeidel doll mark Bi Ba Bo 1908
Walter Jugelt doll mark 1924-1925
Jacob Jung celluloid doll mark stork 1912
Simon Junghans doll mark Papp Head 1864-1930s
K
Friedrich Kaestner dolls 1883 + Ohrdruf, Sazony
Carl Kalbitz doll mark KaLuTu art dolls 1866-1930+
Edi Kallista doll mark 1922
Kammer & Reinhardt doll mark K * R 1886-1932
Marion Kaulitz, Munich Art Dolls 1901-1923
- also called Münchner Künstler Kaulitz-puppen
- doll mark KI, K2, KIII and
V2 for Paul Vogelsanger artist and sculptor
Keramisches Werk Gräfenhain doll mark KWG 1932-43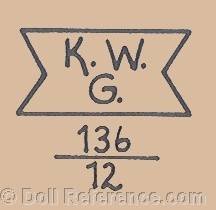 - see Simon & Halbig
Kestner, King of Doll Makers mark K & CO 1820-1938
Kewpie dolls, German, Japan, USA 1909+
Alwin Kiesewetter 1907-1925 Coburg, Thüringia
Anton Kiesewetter 1884-1918 Neustadt, Thüringa
Vve. Anton Kiesewetter 1918-1925
Franz & Hermann Kiesewetter 1912+ Neustadt
Georg B. Kiesewetter 1895-1906 Sonneberg
Max Kiesewetter 1900+ Sonneberg
- founder Erste Steinbacher Porzellanfabrik
Reinhardt Kiesewetter 1898 Neustadt
Charlotte M. Kirchhoff doll mark 1925
Mutzi Puppen Kirchhofff Werkst.
A. W. Fr. Kister China dolls 1837-1930+
- owner August Wilhelm Friedolin Kister
doll mark KPM X
Johann Heinrich Kletzin & Company 1920-1921
Kley & Hahn doll mark K & H 1895-1931
CF Kling & Company doll mark K, bell symbol 1834-1941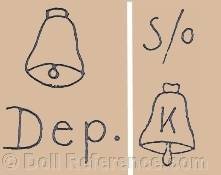 Johann Heinrich Kletzin & Sons 1922-1926
- doll mark laurel wreath, wheat sheaths symbol
Kloster Veilsdorf Porzellanfabrik 1760-1930
- see Closter Veilsdorf Porzellanfabrik
Kloster Vessra doll mark F & L, P.V. 1890+ Thüringia
- owner Edmund Ickel
Erich Klötzer doll mark EK, WKS, K in a circle 1910+
Guido Knauth Doll Factory 1872-1930s Orlamünde
doll mark Knauth, doll mold 46, 50, 301, 501
Knigseer ARI Germany GDR doll house dolls 1960s+
Edmund Knoch doll mark crown symbol EK 1896-1975
Gebrüder Knoch doll mark two crossed bones 1877-1919
Carl Knoll Karlsbad Porzellanfabrik 1842-1945 Böhmen
doll mark CK doll mold 701
Koch & Weithase dolls 1893-1905
- 2nd name of Dressel & Koch
merged with Julius Hering & Weithase 1904-1905
Kohl & Wengenroth doll mark KOW 1902-1926
Kohl & Wengenroth doll mark W symbol
L. G. Kohler papier mache dolls 1862
Kohler & Rosenawld doll mark Kolundro 1925--1927+
- successor of Josef Deuerlein
Moses Kohnstam doll mark MOKO 1867-1935
Konig & Wernicke doll mark KW, KWW 1911-1930
Konigliche Porzellan Manufactur KPM 1710-1930+
- King's Porcelain Factory, Meissen, Berlin
- KPM Berlin doll marks, see China dolls
Koppelsdorfer Porzellanfabrik, see Ernst Heubach
Gustav Korn doll mark GK 1903-1927
Carl Krahmer doll mark CKF 1915-1919 Frankenhausen
Joseph Krauss & Company doll mark JKC 1912+
Samuel Krauss doll mark 1853-1873 Rodach
Werner Krauth doll mark WR globe symbol 1920-1921
Hilde Lotte Krayer doll mark symbol 1929 Berlin
Kreuger dolls 1920s Germany & NYC
doll mark a size number GERMANY K
Georg Kreutzer Doll Factory 1910-1935 Unterlind
- after 1930 used the doll mark Lore
Adolph Kröhl doll mark AK 1830-1898 Berlin
Käthe Kruse cloth dolls 1910 +
E. Kubler & Co. rubber doll mark Vetter Nick 1924
Franz Kuhles dolls 1894-1930s Catterfelder, Ohrdruf
- also called Ohrdruf Puppenfabrik, Spezial doll
Gebruder Kühnlenz doll mark GbrK 1884-1935 Bavaria
Herman Küsel doll mark unknown 1897-1912