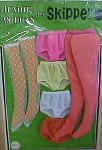 Pak Undertones (1970)
Hot pink pantyhose, 4 pairs of panties; hot pink, yellow, white & coral, two pairs of hose; colors & styles varied.
Pak Toe Twinkles (1970)
Eight pairs of shoes and boots, clear boots with red rim and bottoms, pink, red, and green short boots, turquoise, red pink and navy flat shoes.
Pak Happy Times (1970)
Pink, blue and white record player, Barbie record, blue vinyl cap & boots, a red & white jump rope & a stack of books and two pencils wrapped with a black vinyl strap.
Pak Nighty Nice or Nighty Night (1970)
Blue and white dotted two piece short pajamas, paper face mirror, yellow slippers and blue princess phone.
Pak Side Lights (1970)
Yellow belt, pink plastic belt, yellow vinyl belt, gold chain belt, yellow hat and hot pink vinyl tote with daisy's.
Pak Summer Slacks (1970)
Jumpsuit in several fabric combinations, blue sunglasses.
1586 Very Best Velvet, Dramatic New Living Skipper doll gift set
Sears 1970-1971
1117 New Dramatic Living Skipper doll, wearing a hot pink, blue & green swimsuit, orange velvet dress with yellow flounce skirt, orange velvet coat with yellow lining & plastic belt, sheer yellow hose & yellow flat shoes.
1513 Young Ideas
Sears exclusive 1970-1973
Fabrics varied in this set & they reused many from prior outfits; faux fur coat with vinyl trim (only piece with a tag), two piece cotton suit, solid knit shell & matching socks, party dress, two piece sun suit, sheer hose, gold foil wrapped present, red jump rope, "come to my party" invitation, plastic ball, two pairs of Taiwan flat shoes - some have sunglasses.