F
F & B, Fleischaker & Baum Company (Effanbee) 1910+ NYC
Fab-Lu company, see Bild Lili clones 1950s-1960s
- Made in British Crown Hong Kong
Fair & Carnival Supply Co. 1914+, 126 Fifth Avenue, NYC
- Beach Flirt, Dainty Maid Bewtie, novelty carnival dolls,
Patent No. 52195, July 16, 1918
Fairyland Doll Company 1950s+, see Dress me dolls
F.A.M. Doll Company 1917-1919 Weehawken, NJ
- called The Doll Shop, made Dolly Dainty dolls
doll mark Fam Doll Co
Famous Doll & Toy Corporation 1950s NYC
Famous Doll Studio, Inc. 1906-1922 NYC
- Sani Doll a composition character shoulder head
Famous Plaything Company doll mark Plaything 1930s-1980s
- or Plaything Novelty & Toy Company doll mark
Mark Farmer Doll Company 1950s
- reproduction china head dolls
Faultless Rubber Company rubber doll mark 1916-1923
made a rubber 1918 Billy Boy doll
Federal Doll Mfg. Company doll mark Roze Doll 1917-1926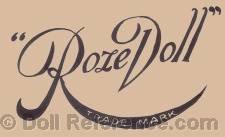 Fiber Craft Materials Corporation doll mark FCM 1953 +
Fiberoid Doll Products Company doll mark 1927-1930s
First American Doll Factory (Aetna) 1892-1896
Fisher-Price Company 1930-1994 - now part of Mattel
Sheila Flagg Doll Company 1947-1985
Edith Flack Ackley Doll Company 1930s
Fleming Doll Company doll mark Tum Tum 1922-1924
Flexie Toy Company 1922-1923
Flexo Toys Corporation doll mark tag 1940s+
Flora's Famous Dolls 1915-1928
M.C.W. Foote, Fairyland rag dolls 1903-1909
Fortune Toys Incorporated hard plastic dolls 1950s
Foulds & Freure celluloid doll mark F & Y Inc. 1911-1930+
Francesse Doll, saucy walker look a like doll 1950s
Franklin Heirloom Mint doll mark FHM 1964+
Madeline Frazier doll mark La Madelon dolls 1940s
Ralph A. Freundlich doll company 1929-1945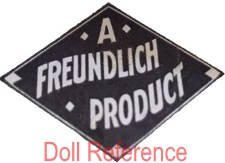 Frisch Doll Company doll mark 1950s
- see Mary Hoyer
Fulper Pottery Company doll mark Fulper USA 1918-1927
Fun World Doll Company 1960s-1980s
G
Gabriel Industries, CBS Toy Company 1966-1978 NYC
CV Gambina Doll Company 2000s
Lewis Galoob Toys Baby Face doll mark LGTI 1990-1998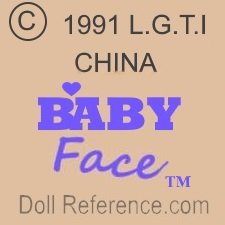 Gardel Industries Mayfair birthstone dolls 1940s+
- NASB Nancy Ann look a like dolls
Theodore H. Gary & Company 1909
- fur covered North Pole expedition dolls
Gem Toy Company composition dolls 1913-1931
G - continued above
G - continued
General Mills Fun Group Inc. doll mark GMFI 1970s
- see Kenner
Arthur A. Gerling Toy Company 1912-1930s, DE, FR, UK
German Novelty Company NYC dolls 1914-1915 U.S.A.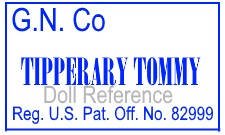 doll label G.N.Co, Tipperary Tommy, Reg. U.S. Pat. Off. No. 82999
Ruth Gibbs Doll Company doll mark R.G. 1946+
Suzanne Gibson Dolls mark SGD 1961-1990
Giebeler Falk metal head doll mark Gi-Fa, G 1918-1921
GI-GO Toys Factory dolls - My Pals Bean Bag Kids dolls 1979+
- 8" dolls with expressive faces, ie. sticking out tongue, etc.
AC Gilbert Company Honey West dolls 1966-1967
Gordon F. Gillespie chalkware Vampie doll 1919-1921
- made by The West Craft Studios, Los Angeles, CA
Gimbel Brothers department Store doll marks 1887-1986
Gizmo Development Gay Bob doll 1977+
Glad Toy Company plastic dolls 1960s, Brookglad
William Glukin & Company doll mark 1920s NYC
Gold Metal doll mark No. 3112 Unbreakable 1878+
Golden Ribbon Playthings dolls 1980s
Philip Goldsmith china doll marks 1870-1894
doll mark My Dolly
Goldsmith doll mark Pat. Dec. 15, 1885
William Farr Goodwin mechanical dolls 1867-1874
Charles Goodyear rubber dolls 1851+
Goodyear Toy Company patsy type dolls 1923-1925
Googly Eye Dolls 1911+
Gorham Company 1831-1967 - now Lenox
Gove Manufacturing Company doll mark UNEKE 1926-1929
WT Grant, Kresge, Kmart 1926-1975 - see Uneeda
Grant Plastics Dress-Me dolls 1950s
Graphics International cloth dolls 1983+
Jane Gray (Stokes) Company doll mark Ada May 1915-1927+
Ludwig Greiner & Sons papier mache dolls 1840-1890
Gre-Poir cloth dolls 1927-1935 - also in France
John B. Gruelle cloth Raggedy Ann & Andy dolls 1915-1938
Gund Manufacturing Company 1898-present
Ida Anzolotta Gutsell doll maker 1893-1924