S
S & H Novelty Company 1925-1930s
Tee-Wee doll, patent Dec. 6, 1927, Bye-Lo like doll
Saalfield Publishing Company doll mark SPTCO 1900-1977
Louis Sametz celluloid doll mark 1918-1924
doll mark native American Indian head symbol
Samstag & Hilder Brothers 1894-1920
- Fluffy Ruffles doll, Hug Me Kiddies doll
or Hug Me Kid doll, Peter Pan Play dolls
doll mark Peter Pan Play
Sanitoy, Inc 1970s+
Saxon Toy Corporation 1940s-1950s+ Brooklyn, NY
Schaper Toys, W.H. Schaper Mfg. Company 1949-1986 MN
- a division of Kusan, Inc, sold to Tyco in 1986
Li'l Me dolls 1970s-1980s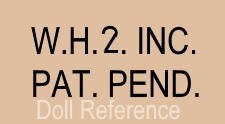 Schavior Rubber Company rubber dolls 1926-1930s
J. L. Schilling Company phonograph talking dolls 1943-49 NYC
- Jesse J. Warner 1935 phonograph talking doll patent mark
Pat. 1998149 other PATS. PEND.
Louis Schmetzer 1875-1876 Chicago & Bavaria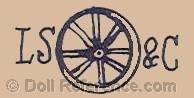 doll mark LS & C with a wheel symbol
Minna M. Schmidt wax dolls 1923-1930s
Schoen Toy Manufacturing 1917-1922, see next
Schoen & Yondorf doll mark SAYCO 1922-1960s
Albert Schoenhut Dolls 1872-1935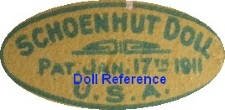 Schranz and Bieber Company doll trade mark ESANBE 1920
Schwartz Toy Bazaar store doll mark 1848-1925+
- brothers; Henry, Richard, Gustav &
Frederick FAO Schwartz of NYC 1862
SeaBabies cloth dolls 1989+ Orleans, MA
Seamless Rubber Corp. dolls 1921-1923
- doll trade name Hula Maidens
Seamless Toy Corp. dolls 1914-1929
- American Beauty doll, Polly Pretty doll,
Kutie Kid doll, Willie Walker doll
Sears Happi-time Dolls 1901-1967
Sears doll mark Baby Sunshine
Sears 1916 Jolly Injun all bisque doll figurine by J. S. USA/Germany
Mildred & Vernon Seeley 1946-2009
- reproduction doll molds, bodies, products
doll body mark © Vernon Seeley
Seiberling Latex Products Co. rubber dolls 1921-1964 Ohio
- Disney characters, Bye-Bye Baby dolls
Seigenberg & Sher doll mark Tut's Mummies 1923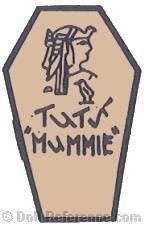 Selchow & Righter doll mark S & R 1864-1930
Seltaeb NEMS Entreprises Limited 1963+, Samsact UK
- Beatles rubber dolls, plus other memorabilia
Seymour Mann dolls 1980s-1990s
B. Shackman & Company, Inc. dolls 1898-present NYC, MI
Elsie Shaver cloth doll mark Little Shavers 1919
J. B. Sheppard & Company cloth dolls 1900+
- Philadelphia Baby doll, Sheppard Baby doll
Sherman Doll & Toy Company 1950s-1960s NYC
- Judee doll, A Child's Sweetheart doll
Inga Shilling-Patterson doll mark Inga 1924-1925
M & S Shillman composition dolls 1925-1930
doll mark M & S or upside down W & S
J. Shin Company Inc. dba Village Toys 1980s
- Ice Cream dolls made in Hong Kong
Shindana Dolls 1960s-1980s
Lita & Bessie Shinn dolls 1916-1920
- mark bottom of foot Patented Shinn Sisters
Shows Dolls Company ca. 1950s NYC
- Funny Face cloth boy with freckles doll 16"
Shreve Island Plantation Julie Ann Mayer dolls 1930s-1950s
- flat wood or plastic dress up dolls
Shulman & Sons dolls 1906-1924
doll trade mark SS NY 1906 on a scroll
S - continued above