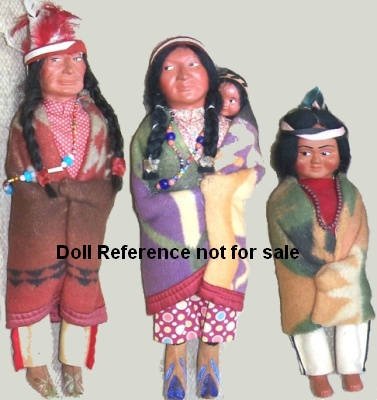 Arrow Novelty composition Skookum dolls
native American Indian Family
The Arrow Novelty Company of New York, they are best known for their souvenir or tourist Skookum Native American Indian dolls that were made beginning in 1914 by Mary McAboy who was from Montana
, the company was founded in 1920 and continued to produce dolls until 1962.
History of the earliest Skookum dolls were made with dried apple heads on a wood frame body, dressed and wrapped in an Indian blanket.
Later the heads were made from composition, then hard plastic. The dolls native attire represent various tribes; males, women, children and papooses (babies), in sizes of a few inches to 36" tall.