Austria, Austrian Doll Makers – Dolls Made in Austria
Aich, Menzel, Porzellanfabrik Aich doll mark A & M 1918-1930
doll mark 1904 A & M Made in Austria
Ferdinand Andri wooden peasant dolls 1906+

Lilli Roman Baitz, folk art character dolls 1909-1938
– then 1947-1999 Kunstgewerbatelier Baitz Nachfolger
Buchauer Porzellanfabrik, see Plass & Roesner

Milna Crowley & Co dolls 1920s

Henrich Dehler dolls 1889 Vienna
Alf Deller dolls 1907-1921 Vienna

ELKA pin cushion half dolls 1920s- ?

Franz Frankl dolls 1858-1925+ Vienna
D. Freud dolls 1899 Vienna
Auguste Gottfried dolls 1897-1901 Vienna
Johannes Gottwald dolls & mannequins 1925-1930s Vienna
Grödner Tal dolls; Tuck Comb, wood peg dolls 1700s+
J. Haller dolls 1851 Vienna
Hauser Co dolls 1922+, also located in Germany
Innsbruck Doll Company by Adelheid Nogler1930s+
– used the winged mermaid doll mark of Cellba Celluloid Warenfabrik or Schoberl & Becker, shown below.
Insam & Prinoth wood dolls 1820-1930 Tyrol, German
Juko Costume (tourist) Dolls of Austria 1960s
Carl Knoll Karlsbad Porzellanfabrik 1842+ (some dolls marked Austria)
Krauhs Co dolls 1920s-1930s
Leo Katz dolls 1924-1925
Klosterle dolls 1790-1890+, also in Czechoslovakia
Carl Henrich Knabe dolls 1897-1903 Vienna
Josef Kubekla doll mark 4 BTE SGDG 1884-1909 Vienna

Erben G. Lange dolls 1851-1853 Bavaria
Emil Mautner dolls 1912-1925
Anger & Moehling dolls 1848-1870, see Aich, Menzel
Moroder wooden doll 1800s-1896 verlegers Grödner Tal
A. C. Neissner dolls 1907-1925+ Vienna
Katherine Parr dolls 1914-1927
Fritz Pfeffer China head dolls 1892-1930 Vienna & Germany

doll mark intertwined FP (F is backwards) or GFP
Gebrüder Pfeiffer 1894-1930 Vienna, Austria & Thuringia
– Gebrüder Pfeiffer; Emil, Max Pfeiffer & Fritz (Pfeffer),
– used Marseille bisque head doll mold A560, 1894

Emil Pirchan turned wood character dolls 1907
M. Pecher dolls ca. 1899 Vienna
Johanna Peller-Hoffmann carved turned wood dolls 1907
Plass & Roesner Buchauer Porzellanfabrik dolls 1907-1930
– doll mold 1907, 1909, 1910, 1913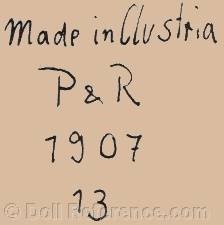 doll mark Made in Austria P & R doll mold 1907
doll mark 1909-17 B.P. Made in Austria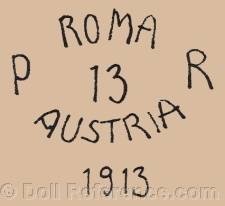 doll mark Roma PR Austria doll mold 1913
Fraulein Minka Podhajaska turned wood dolls 1903-1910
Pollak & Hoffmann china head dolls 1902-1907 Buchau
doll mark P & H, doll mold 1903, 1904, then Plass & Roesner
Moritz Resek or Rezek dolls 1889-1927
Moritz Resek doll mark MR doll mold 1895
Adam Rockendorfer wood dolls 1809-1814
Marianne Roller wood dolls 1906-1908
Petrasch Rosenaur of Salzburg, Austria dolls 1940s-1950s
doll mark doll head atop a half world globe Gobaly
Johan Anton Runggaldier wood doll verlegers 1800s
Georg Andrea Sauerzapf papier mache dolls 1834-1851
Prof. Victor Schufinsky turned wood dolls 1909-1910
Johann Siedar walking dolls 1907-1908

Mary Teltscher felt cloth souvenir doll mark tag 1950s Vienna
TOCO 28 Vienna (Austria) celluloid doll mark, dates & maker, ??
Friedrich & Josef Treidler dolls 1853+
A.L. Vangel dolls 1879 Vienna
Von Uchatius dolls 1900-1926
Ernst Wahliss doll mark Porcelanhaus Wein Kartnerstrasse 17