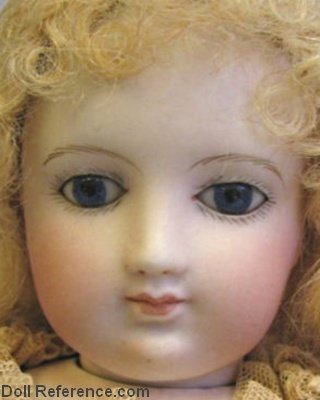 ca. 1870 Barrois French Fashion Poupée Peau (doll with leather skin), 19" tall, Lady Fashion Doll, pressed bisque swivel shoulder head, pale bisque coloring with delicate features, lightly feathered brows, glass almond shaped eyes rimmed with black, painted upper and lower lashes, slight smiling closed mouth, mohair wig, straight limbed kid leather body, kid arms with stitched fingers on hands, doll mark E. B.
A bit of history on the Eugene Barrois doll company, they were one of the earliest makers of porcelain and China head dolls in Paris, France. One of Barrois chief competitors was Claude Joseph Blampoix.
The China head dolls eyes can be glass or painted with long lashes and painted molded hair or wigged, dolls facial paint is very delicate with small, slightly smiling mouths. Barrois also supplied bisque heads to 126French doll firms including Bru and Rabery & Delphieu. In 1878 Barrois was purchased by Aristride Halopeau.
Most of Barrois dolls are shoulder heads with a few socket heads as well, the Lady fashion dolls body can be of kid, cloth or a wood jointed body, some dolls are found with wood upper arms and bisque hands.
Doll sizes were from 9" to 24" tall (sizing codes of 3/0 - 8). Dolls are generally valued by size, the largest size being the highest value, then by painted eyes, glass eyes, a wood jointed body and what must be very rare, a Black Lady doll.