The Bing Brothers Art Doll Company was founded by brothers Ignaz and Adolf Bing, was also called Bing Werke or Bing Wolfe Corporation and reorganized as a holding company in 1917 called Continental Supplies Center Concentra AG, the largest toy concern in the world at that time. During World War I this was the only toy factory in Nuremberg, Germany that did not close.
Bing is best known for their felt art dolls which competed with Käthe Kruse and Lenci dolls, Bing used the trademark of Bing Beauty Art Dolls or Bing Beauty Baby, a Bye-Lo type doll, plus others.
By 1928 the Bing Brothers Art Doll Company had become a large corporation that included thirty-one subsidiaries with 4,000 employees, one of whom was Louis Wolf which produced bisque character dolls marked LWC, LW. & C., L. W. & Co., with bisque heads by Hertel, Schwab & Co doll mold 152 and bisque head Schutzmeister & Quendt doll molds 201, 301. Also, rubber brightly colored dolls of a cowboy, Dutch boy and girl, fisherman, native American Indian and sailor.
John Bing Company of NYC, 1910-1925 held the American and Canadian rights for the Bing Art Dolls. They also acted as an agent for Kämmer & Reinhardt, Heinrich Handwerck and probably other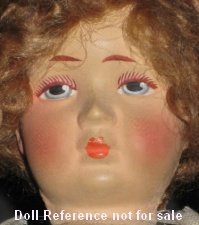 German doll manufacturers. In 1928 Max Bing took over the operation, shortly thereafter Bing merged with L. Wolf and became the Bing Wolf Corporation.
Bing Kunstlerpuppen und stoff Spielwaren Gesellschaft 1921-1932 made felt art dolls, much like the Kathe Kruse dolls and were also incorporated into the Bing Art doll conglomerate. In 1932 the Bing conglomerate filed for bankruptcy.
Some antique Bing doll trade names are; 1912 Sunshine Kid and Sunshine Girl dolls, 1915 Baby Darling, 1913 Baby Irene (Louis Wolf), 1922 Pitti-Bum, 1925 Baby Sister, Happiness Candy Store Dolls; 1925 Toddling Toodles doll or Baby Sunshine doll, 1926 Baby Patsy doll, 1927 Beauty Baby doll.
Bing registered doll trade marks are; BING, BW, Concentra triangle and GBN, some of which are shown below.