1896-1899 Favorite bisque doll heads, jointed bodies, soft limbs
1905-1907+ China Rattle head dolls, Model doll, Hertwig Pet Name China head dolls.
1906 All Zylonite floatable dolls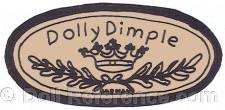 1907-1914 Butler Brothers Dolly Dimple label
1907-1912 Matlock Patent Washable dolls, Pauline doll, Ruth doll.
1909 Kämpfe & Heubach Alice doll.
1910 Eskimo North Pole dolls, 9 1/2" tall, with celluloid faces, brown plush fur bodies, voice box, white felt mitt hands and boots
1912 Baby Betty doll
1913 Miss Millionaire kid body doll
1914 The Wide Awake Doll, all bisque smiling Kewpie
1915 Baby Bud doll, Baby Catherine doll by Effanbee
1915 Yama Yama doll
1916 American Character Baby Petite doll
Butler Brothers Ne Plus Ultra label
1916 All Bisque Cupid doll mold 10383, 10414, 10949, 10950, 10954, doll mark Germany, Germany P.
1917-1918 Bathing Girl, Rose Mary doll, Uncle Sam doll
1918 Sweetie doll a Peterkin or Kewpie look a like
1919 Tiss-Me all bisque doll by Henry Mayer
1927 cloth crepe Dutch girl or boy dolls
1928 Dainty Miss a Mama doll, Sissie doll by Cameo.
1929 Tootse doll, also sold at Sears.
All Rubber dolls size 4 1/2 - 10" tall, Aunt Sally doll, Aviator doll, Babbit Boy doll, Baby Bunting doll, Baby Buttercup doll, Banker's Daughter doll, Banner Kid dolls, Beatrice doll, Boudoir dolls, Buster Brown doll 11 1/2", Dorothy doll, Esther doll, Special Doll with a composition head, ABC Toy Co mama dolls, 1918+ large sized Carnival character dolls, plus many other dolls.