Tommy Tucker doll, 17" tall, all celluloid, Rheinische Gummi turtle marking

Celluloid dolls are made from cellulose nitrate, alcohol, fillers and camphor pigments. Celluloid dolls were made in: Bavaria, England, France, Japan, Germany, Italy (dolls from Germany were sent to Italy for the face to be painted), Poland, Spain and the USA.

Early dolls had a celluloid head and limbs or partial limbs with a cloth stuffed body, this celluloid material is rather fragile. About 1908 the material improved and the dolls were then made entirely of celluloid and were now more durable.

In the 1940s the USA outlawed the use of celluloid for dolls, as the material can be flammable if exposed to high heat or open flame, however, other countries continued to use the material long after the 1940s. Also, the celluloid material deteriorates when exposed to moisture.
Celluloid Doll Marks Identified
Anili Doll Company celluloid mask face doll mark a circular paper hang tag, on bottom of foot Anili

Averill Sunny Girl doll and Sunny Boy celluloid doll mark the turtle symbol of Rheinische Gummi

Baby Outfitters dolls mark Bo-Peep American

Bähr & Pröschild celluloid doll mark Buporit, 1930s

Bayerische Celluloidwarenfabrik doll mark W in a circle

Buschow & Beck doll mark Minerva with a helmet symbol.

Wilhelm Buschow doll mark Mein Herzenskind (My Sweetheart)

1906-1951 Canzler & Hoffman doll mark Caho C & H,

see next ---->

Canzler & Hoffman name change, 1952-1980s Caco Company doll mark Caco

Robert Carl doll mark Germany RC inside circle

Cellba Celluloid Warenfabrik or Schoberl & Becker doll mark winged mermaid symbol on a shield.

Japan doll marks

have been moved

to this page
Celluloid Doll Marks - Unidentified, Unknown doll makers
| | | |
| --- | --- | --- |
| Celluloid doll mark AJ inside a triangle German | Celluloid doll mark ASADA with a circle symbol & line | Celluloid doll mark two diamond symbols 328 |
| Celluloid doll mark E.S. Germany, small doll house sized dolls | Celluloid doll mark IK inside a triangle | Celluloid doll mark 00. German |
| Celluloid doll mark Penguin symbol PATENT | Celluloid doll mark CH intertwined - possibly Christian Hopf | Celluloid doll mark diamond with a cross with double lines, possibly Japan |
Celluloid Novelty Company 1874-1891 (USA) Newark, NJ celluloid jewelry and other fancy goods mark CNCo. intertwined.
Celluloid Toy Factory 1884 - 1939 Kalisz (POL), Szrajer & Fingerhut or Shaer & Fingergut, founded by Adam Szrajer and father-in-law Jakub Fingerhut, made celluloid dolls and wooden toys, doll mark ASK inside a triangle Poland.
Celluloid Toy Factory (during WW II ca. 1939-1945) Kalisz (POL), successor German Theodor Reinke, doll mark TR inside a triangle. Sometime after world war II ended in 1945, the Celluloid Toy Factory of Kalisz was renamed Kaliskie Zaklady Przemyslu Terenowgo at Ul Przbrzezma and used the celluloid doll mark PPMK inside a triangle Poland, a four leaf clover symbol Poland.
Convert & Company 1911-1930+ (FRA), made celluloid dolls, 1930+ Nani & Nano baby dolls, doll mark a windmill symbol France.
Erich Dittmann 1945-1967 (GER), EDI dolls, made small celluloid dolls, ramp walker dolls dressed in Regional costumes, doll mark Edi D.R.G.M, Edi Germany, EDI Puppen.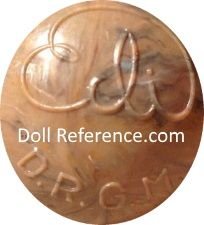 Dovina Dolls 1960s? Rotterdam, Holland (NETH), made 8-19" tall, regional dressed celluloid, head marked VH, label mark Dovina Rotterdam - Holland.
Stephan Erhard, also S. Erhard & Son 1887-1930 (ENG), made celluloid dolls, doll mark S.E.S, S E & S inside a diamond.
Exeloid Company 1918-1920 (USA), made lightweight celluloid Pyralin novelty dolls in blue, pink or white, doll mark XLCO Made in U.S.A.
Foulds & Freure 1911-1930+ (USA), jobber, sold imported German and Japan celluloid dolls, doll mark F & F NY INC.
Giocattoli Brevettati Galetti or Galletti 1950s-? (ITALY) - made small celluloid souvenir dolls, doll mark symbol of two standing roosters facing, Made in Italy.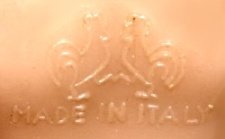 Otto Gans, Gans & Seyfarth 1901-1930s (GER), made bisque and celluloid dolls, doll mark OG, OGA.
Hamley Brothers 1760+ (ENG), import, exporter of celluloid & other dolls, doll mark Buster Brown, Fums Up, Thumbs Up.
Heindrich Handwerck 1876-1932 (GER), was known for their bisque head dolls, but also made some celluloid dolls.
Paul Hausmeister & Company 1909+ (Göppingen, Germany) - is a little known doll maker, they participated in the Leipzig fair with doll heads made of gelatin, bone, composition and celluloid. Paul Hausmeister registered his doll mark of a Stork bird standing on one foot in 1909.
Hermsdorfer Celluloid Warenfabrik 1925-1927 (GER), made celluloid baby and child dolls, doll mark symbol of a Ladybug, a Marienkäfer, DADA on the wings.
Carl Hoffmeister 1864-1925 (GER), made celluloid dolls with heads from Rheinische Gummi (turtle mark) and metal doll heads from Buschow & Beck with the doll mark Minerva with a helmet symbol.
Hollywood Doll Company 1941-1926 (USA), made small celluloid dolls, later they made the small dolls in hard plastic, doll mark A Hollywood Doll around a star symbol.
Jouets de Strasbourg Joustra Toy Company 1932-1999 (FRA)- made small dressed celluloid dolls, clothing has a cloth label sewn with the name Joustra.
Dr. Paul Hunaeus Celluloidwaren-Fabrik 1864-1930 (GER), made celluloid doll heads and dolls, doll mark PH intertwined, Igodi (by Johannes Gotthilf Dietrich), in 1930 merged with Rheinische Gummi (Schildkröt).
Japan celluloid dolls, doll makers and doll marks page
Jumeau / SFBJ made celluloid dolls marked JUMEAU.
Jacob Jung 1912 (GER) made celluloid dolls, doll mark a standing stork carrying a baby.
Irwin & Company 1926+ (USA), made cloth, composition, celluloid and hard plastic dolls, doll mark Non-Flam circle Irwin Made in USA.
Kammer & Reinhardt 1886-1932 (GER), wax dolls, bisque dolls, cloth dolls, biscaloid (composition material that looks like bisque) and celluloid dolls marked K star R, K & R W, doll molds 301, 406, 700, 701, 717, 728, + others.
Kestner 1805-1938 (GER), made wax dolls, bisque and celluloid dolls marked JDK turtle symbol for Rheinische Gummi und Celluloid Fabrik Co, plus many other doll marks, see the Kestner page.
Knickerbocker Doll & Toy Company 1925+ (USA), made some celluloid dolls, plus dolls of other materials.
J.K. Køge celluloid dolls (Køge, DEN) 1947-1950s, doll mark J.K. Koge inside a triangle or a sea shell inside a circle.
Kohl & Wengenroth Celluloid & Rubber Doll Factory 1864-1926 (GER) Offenbach made small celluloid & rubber dolls, soldiers, clowns, bathing dolls, novelty items, doll mark KOW on top of arms extended of person standing.
Konig (Köenig) & Wernicke 1911-1935 (GER), made bisque & celluloid dolls, WW 29815 or K & WW 29817 with or without the turtle mark.
Henri Orthon Kratz-Boussac 1892-1910 (FRA), made celluloid dolls, registered in 1906 doll mark L'Aiglon, an Eagle symbol.
Kathe Kruse 1910+ (GER), made cloth dolls first, then celluloid and plastic dolls, doll mark Schultz KK Marke (1st K is backward).
Le Minor Dolls Petitcollin, eagle head with FRANCE
Ernst Liebermann 1894-1938+ (GER), made bisque and celluloid head character dolls and babies on ball jointed bodies, doll mark EL, ELI, doll mold 60.

Ernst EG.M. Luthardt 1868-1938 (GER), Lederpupenfabrik und Export dolls, also dolls made of bisque, China, celluloid, composition heads on leather, cloth or felt and composition bodies. In 1929 began using the doll mark Luta Germany
Marks Brothers Company 1918-1930s (Boston, MA), importer of celluloid socket or shoulder head dolls, rag dolls, doll mark Marks Brothers.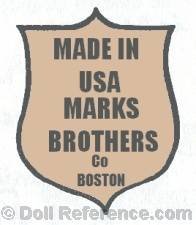 Aiba Kintoro Marugane dolls 1920s (Tokyo Japan), not much is known of this company, they made celluloid dolls, mark is a symbol of an umbrella (or an arrow pointing up) with the pole as the center in roman numeral III all inside a circle MADE IN NIPPON.
August Möller & Sohn 1915-1928 (GER), advertised replacement bisque, celluloid and porcelain heads for child and baby dolls with human or mohair wigs, sometime later Möller made entire dolls with a bisque head dolly face or composition dolly face head, on a composition jointed body. Möller also operated a doll hospital, doll mark AMUSO, doll molds 70, 100, 1006, 1920, doll name Jeannette.
Moll's Doll Company 1950s-1960s (GER), made small Trachten-Puppen (costume dolls) in celluloid, doll mark tag in red and white Moll's a symbol of a girls face Trachten-Puppen.