1980s+ Chinese blue and white Delft porcelain decorator dolls are made by various unknown doll makers,
see our Porcelain Collector doll page for more information and values.
Battat Company (founded 1897) dolls & toys 1970s+ Montreal, Canada and Hong Kong, China
Lissi Bätz Dolls & Toys Hong Kong Limited Company doll mark LB inside a triangle 1989+ & West Germany
Bikin Express Limited dolls 1986-1992 Hong Kong, China, also in NYC, USA
- made Walt Disney fairy tale characters in plastic and vinyl; Little Red Riding Hood, Sleeping Beauty, Dwarfs
Blue Box Toys Company, Made in Hong Kong 1952+, a variety of plastic dolls
CPC Company doll mark Hong Kong CPC inside a diamond 1960s-1970s
Camay Company dolls 1950s+ **
Chinese Papier Mache Opera dolls 1930-1940
L. Davis Textiles Co. Limited (Davtex) dolls 1960s+ **
Debbie Doll Co. 1950+ **
Diddums International 1960s, dolls made in Hong Kong, plastic Pee Wee like dolls dressed in international costumes
- Palitoy diddums dolls were made of cascelloid, but these have different faces than doll noted above
Door of Hope dolls 1901-1949
Elvin Company dolls & toys mark Elvinco 1960s+
Evergreen Company dolls 1960s+ **
Fab-Lu dolls 1950s+ ** - also in New York city
Fishel Toys Limited of Hong Kong baby dolls 1978 - present - dolls marked HONG KONG
Gata, Gatabox Limited of Hong Kong dolls 1981-1999, then Horsman Limited
Gi-GO Toys Factory Limited of Hong Kong - My Pals bean bag kids dolls 1979+
- 8" unmarked dolls with expressive faces, ie. sticking out tongue, etc.
Goodwell International, Kingdom of Heaven, Chinese Orphanage and Passport Dolls 1980s +
H.T. Hong Kong Tina doll mark label circle with purple, red, gold, aqua with H.T. inside, dates unknown
Heroic Rendezvous clothing line dolls (HR) by Vanessa Chan 2003-2011 ? Hong Kong, China
- the Heroic Rendezvous clothing lines mascots, are the big head girl doll Nette & boy doll Bobby
House of Global Art Company porcelain doll mark two simile faces 1981-1990s
Kader Industries Company Limited, celluloid or plastic doll mark OK on a globe Kader 1948+ Hong Kong **
Knight & Company dolls of Newchwang 1878
Lotus Onda Industrial Company Ltd. 1972-present
Lotus Onda Bumbleberry play dolls, Baby dolls and more
Lucky Industrial Company Limited dolls 1980s+
Ada Lum cloth dolls 1930s
M & C Toy Centre doll mark mouse head symbol

Betty Teen doll mark on head © TONG, sometimes includes M&C and sometimes

includes on lower back M&C China. Mascot Doll Made 1960s Hong Kong, China
M & C Toy Centre, Inc. Hong Kong, China, dolls 1979 +
- 1980s-1990s Betty Tong or Teen doll a Barbie clone or competitor fashion doll
(Designed by) M.D.C. Corporation, modern porcelain doll mark CASCO 1990s+ ? China, Japan, Asian
A. Meyer & Company doll mark art deco dragonfly & leaves symbol 1892 Yokohama, China
Michael Lee doll mark Michale 1946-1995 by doll maker Lee Ming Yang of Hong Kong, China
- early dolls are small composition Chinese character dolls and later larger cloth dolls were also made
Mieler Dolls Limited by Mikkel Bjonness-Jacobsen; Chinese Karate Kid dolls, British passport dolls, 1982 +
Ning-Po carved wooden dolls 1917-1919, then worked for Door of Hope dolls
Queue - the word for a single plat of hair down the back, Oriental or Asian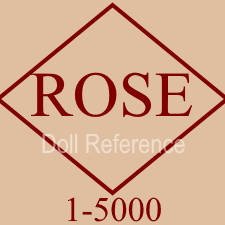 Rose Collection porcelain doll mark Rose inside a diamond 1990s +
S C & D Made in China dolls 2000+
Simba Toys (Germany) doll mark SIMBA, Made in China 1982-present
SMC 9 Made in Hong Kong doll mark - Chinese company, dates unknown
The Brass Key, Inc. plush toys, doll mark T.B.K.I. © 2000 Made in China, home décor 1985-present
Toy Century Industrial Limited Company of Hong Kong 2003 +
- makes Starletz (Bratz look a like) dolls and many other toys sold thru Toys "R" Us
Chinese doll mark TT inside two partial circles, Made in Hong Kong - 1960s + ? unknown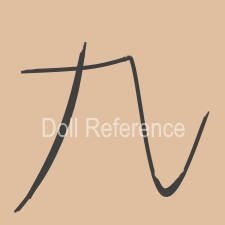 Walda Antiqued porcelain doll mark Chinese character TR 1970-1980s+
Zima Products Limited company 1981-2005 Hong Kong
** dolls were made in the British Crown Colony of Hong Kong and sold thru-out the world
Republic of the Philippines Doll Makers
Unknown resin faux wood like decorative dolls unmarked 1990s made in the Philippines
- dressed in a ruffled white bonnnet and matching long gown