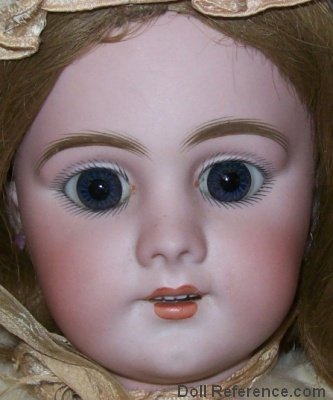 1890+ Fleischmann & Bloedel Eden Bébé doll, 22 1/2" tall, bisque head, wigged, feathered eyebrows, glass eyes, painted upper and lower eye lashes, open mouth with teeth, jointed French composition and wood body, doll mark Eden bebe.
Founded in Fürth, Sonneberg, Germany in 1873 by Salomon Fleischmann and Jean Bloedel (also spelled Blödel) as a factory making toys and dolls. They also established branch offices in Paris, France, London, England and Lehmann & Company their agent in Spain.
Fleischmann & Bloedel made knick knacks, dolls or figures of porcelain, sheet metal, iron, wood, wax and papier mache, toys (a mon Mignon) that moved and played music, automatic dolls that walked and/or talked. Some dolls may have a Ferdinand Imhoff marked windup walking body
In 1899 Fleischmann & Bloedel joined the alliance of French dolls makers SFBJ with Salomon Fleischmann as it's first director.