Louis Dalloz fashion Lady dolls 1868-1889
- sucessor of Duval-Denis
Damerval Frères & Laffranchy dolls 1910-1917
- doll mark Montreuil France DL, DL
registered doll tradenames Joli Bébé, Bébé Mignon
Danel et Cie 1889-1895 (Jumeau 1896, then SFBJ 1899)
Louis Danjard papier mache heads doll mark 1860-1882
Edmond Daspres doll mark E.D.B. Paris La Patricienne 1902-1913
- successor of Jules N. Steiner
Robert M. Darcy turtle leather Mon Fétiche doll 1928
D'Autremont China dolls mark label 1858
doll mark Paris 6 Rue De Dauphin 6
Mlle. Aline De Brzeska art doll mark Lutetia 1922
Mme. Jeanne De Kasparek art dolls 1922-1930
registered doll trademark Sans Rival
doll mark coat of arms with a crown crest
Max Henri Marie De la Ramée doll mark Ma Jolie 1917
De Raphelis-Sossian doll mark Jeanne d'Arc 1920
Georges De Rousey de Sales 1917-1920
- doll mark Liberty, Expression, Modestes, Espiègels
De Stoecklin & Gaston doll mark 1920
- Poupées De Paris, Les Poupées Parisiennes, Les Poupettes
Yves De Villers doll mark Poupée Raynal 1924-1926
Renée De Wouilt doll mark sunburst star W 1916
J. Decoster bebes doll mark J. DeCoster 1890 Paris
Louis Dedieu, mascot doll mark De Liauty 1927
Dehais mechanical dolls 1836-1921
- doll mold 106, mechanical dolls, poupards (doll without legs),
Marottes, Folies, Polichinelles (clown doll), successor Louis
Marie Renou 1890-1921
Auguste Dehors doll mark A. Dehors 4 Brevete JP2 1860-90
Louis Delachal rubber dolls mark LD 1890-1904
B. Delacoste & Cie doll mark D inside oval 1914-1928+

- successor of B. Derolland, rubber bebes
Charles Delattre doll label C.D. 60 Rue Mazarine Paris 1970-1985
- Le Canard á Roulette shop, reproduction antique dolls
Henry Delcourt 1921-1926 + (SFBJ), reg. Bébé Tanagra in 1926
- in 1924-1926 became Société Industrielle du Jouet (S.I.J.)
Henri Delcroix dolls 1865-1887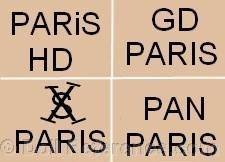 - doll mark Paris HD, GD Paris, XS Paris, Pan Paris
Alexandre Delhaye Fères doll mark AD 1900-1912
Delrieux & Lot Fils store Cabaret Porcelaine mark 1859-1865
Marie Demarest doll mark Poupée Sanver's 1908 Clef, France
Etienne Denamur doll marks E#D 1857-1898
DEP Dolls ca. 1880s+ - depose, déposé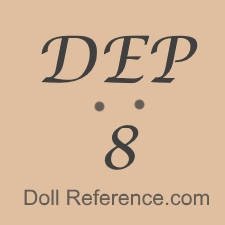 Basile Derolland 1860-1928+ Ansiére-sur-Oise
rubber bebe doll mark D inside a circle
Alexandrine D'Erophine doll mark Ad'E moon & star 1886
M. Hubert Des Loges doll mark H.C.L. 1916
Mlle. Desaubliaux cloth doll or shoes mark Gallia 1915
- L'Assistance par le Travail, Oeuvre du Travail à domicile
Maison F. Deschamps doll mark 5 rue de l' Echelle 1847-1895
E. Desrues doll table services 1864-1924+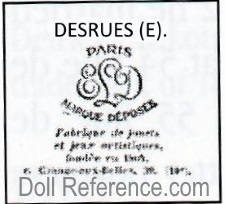 L. Doléac & Cie doll mark LD 1881-1908
- Polichinelles, Marottes dolls
Doll Glossary, doll terms explained
Maison Dorée department store 1900-1901 Paris
- doll trademark Bebe Maison Dorée
Emile Douillet doll mark ED (Jumeau) 1890
Mme. Germaine Douche 1928-1930+
- doll marks Colette, Puppet's Mary
Isidore Dreifuss doll mark La Poupée Ideale Fi-Fi 1921
Paul Dubois doll mark Entrée des Alliés a Strasbourg 1919
E. Dumont doll mark ED 1843-1889
Mme. Max. Duran doll mark MD inside circle 1915
Octave Durand doll mark Tanagrette 1921
Duval-Denis doll mark DD 1861 and 1863
- successor to Claude Blampoix Sr.
Fannie E. Duvall cloth dolls 1916-1918
doll mark CREE par FANNIE DUVALL, OUVROIR, 180 Rue de G