Amédée La Fosse 1892-1893
- successor of Jules N. Steiner
Marie La Fosse 1893-1899
- widow of Amédée, successor J. N. Steiner
La Parisienne doll maker, 39 Rue de la Roquette 1910-1912
- owners Orthon Kratz-Boussac & Henri Lorentz
La Petite Amazone doll store 5 Blvd. des Italiens 1870s
- owner Madame Delcro
La Nicette 1924-1946
- cloth felt dolls by Gaston Casimir
Laclef-Jeofrin doll & toy shop 234 Galerie de Bois 1816-1830
Camille Lacombe shop L'Arlequinade 36 Rue du Bac 1849-1851
Désiré Pierre Lacouchy dolls 31 rue Michel le Comte 1864-1880
Lacourtille Factory doll mark crossed swords 1771-1840
House of Margaine Lacroix doll couturière 1873-1918
doll mark label 18 Boulevard Haussmann, Paris
Lady Fashion Dolls ca. 1860s-1930
Galeries Lafayette department store 1895+
André Lafitte doll mark Vita 1917
Lafitte & Désirat dressed wax fashion dolls 1900-1920
Laflex doll mark © by Laflex 1959 made in France 1955+
Lahaussois & Cie porcelain factory bébés & doll heads 1897+
- 151 Rue du Vieux Pont de Sévres
E. Lallemand doll maker 44 Rue des Praries 1893+
Théophile Lamagnére doll agent 25 Rue du Temple 1882-1908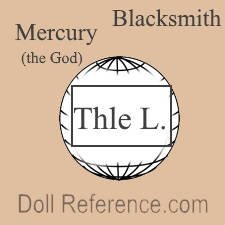 doll mark God Mercury & blacksmith on globe Thle. L
Andre Lambert doll mark Zina 1924
Cecile Lambert doll mark Babet 1921
Léopold Lambert & Eugénie Bourgeois doll mark LB 1886-1923
- address 13 Rue Portefoin, Paris
Lamorlette dolls 147 Rue St. Denis 1838-1846
Lamousse dolls 7 Rue Chapon 1870-1882
Jacques Emile Lang cloth dolls 81 Rue des Archives 1914-1924
doll mark E.L. Manufacture Français Jouettes Tissue Systém Breveté
Georges Lang doll mark Benjamin, Benjamine 1929
Lang-Guillemaut cloth dolls 1920s
Langlois dolls 1861-1862
Mme. A. Laniez doll shop A La Poupee Lughonnaise
- Luchon - 34 Allée d'Etigny, sold Eden Bebe
Lanternier et Cie 1855-1924 Limoges, France
Laquionie & Cie doll marks Joli Guy, Muguette, Rosette 1919
Charles Amédée Larbaud dolls 1860s-1865
Lardot-Praquin 1867-1882
L'Arlequin Cie cloth dolls, 6 Rue Duhesme, Paris 1925-1930
L'Association des Petits Fabricants doll heads 1914
Charles Laumaunier doll mark C.L. 1882
Baroness Laumont 1914-1921
Marie Laure doll mark label Marie Laure Paris 1960s
Jeune Laurens & Dugourjal 1856-1858
Jeanne Lavallée-Peronne Doll Shop 1865-1870 Paris
A la Poupée de Nuremberg, 21 Rue de Choiseul,
a wood & kid body doll sold with doll shop label
Jeanne Lavin French fashion designer who made doll clothes
Lavoisier & Fils doll & toy manufacturers 1881-1888+
doll mark a kite symbol Au Gros Volant Bleu A et L. L.
Mme. Stéfania (Thabée) Lazarski dolls 1914-1939
- 17 Rue Boissonade & 83 Faubourg. St. Honoré, Paris
Atelier Artistique Polonais (Artists Workshop Poland)
at 60 Rue Gay-Lussac, Paris
made Mascotte, Bébé Marcheurs, kid, cloth, wax dolls
LC anchor doll mark, see doll Makers in Spain Lehmann & Co
Le Jouets en Bois wooden dolls & toys 1903-1919
Le Magasin des Enfants lady doll label, Paris
Le Maire doll & toy store label No. 2 Rue Chapon, Paris 1823+
Le Minor celluloid dolls 1936-1940s+
Le Montréer Fréres & Cie 1893-1921
doll mark LM 6, le Trottin, Le Victorieux
Ange Le Prince doll mark Scaramouche 1924
Lechartier & Max doll maker, 59 Rue des Petites Ecuries 1878+
Madame Stapfer Rachel Lebel doll mark Patria 1916
J.D. Leblond India rubber manikin dolls 1853
Jean-Baptiste Leconte- Alliott Company doll inventor 1866-1867+
- a feeding doll named Marie-Jeanne
Edouard Etienne Leconte & Company 1880-1890
- inventor of mechanical dolls & toys, sold co. to H. Leconte
H. Leconte & Gourrier new owners of above company 1890+
Leconte & Company doll mark LB DÉPOSÉ L3C
Alexandre Lefebvre et Cie 1863-1921 (SFBJ)
- also Bébé Culotte, Bébé Maillot, clowns, soldiers, babies + in
papier mache, Bébé incassables (unbreakable) head dolls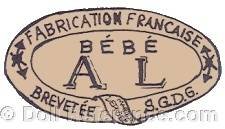 doll mark Bebe A.L., B.L Paris, B 12.L
Eugénie Legrand doll maker 66 Avenue de St. Mandé <1896
Emile Albert Lejeune rubber dolls & toys 1855-1880
Louis Aimé Lejeune doll mark set of wings 1915
Yvonne Lelièvre doll mark Lisette Marque Deposee PV 1922
Georges Lepape marionette dolls marked G. Lepape 1915-1916
Madame Lepelletier carton or papier mache dolls 1893
M. V. Lepinary doll mark Le JouJou Français 1919
Leredde & Sonnet doll mark MS depose Paris 1888
Les Arts du Papier doll mark A.P. Paris, La Mignonne 1919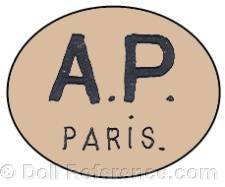 Les Bébés de France Cie doll mark BF 1919-1921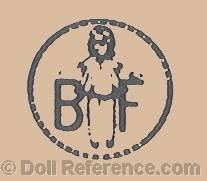 Les Poupées Artistiques Française doll mark FPH 1920s
Les Poupées Rosalinde doll mark 1927-1930+
A. Leverd et Cie dolls 1852-1867
- renamed La Gutta Percha 1867+
Leverrier Pandora Shop doll mark Pandore 1915-1918
also by Valentine Thomson
Madame Levesque doll shoes mark H.L. 1884-1899
Edmond Levi doll mark Les Poupées De France 1919-1921
Albert Lévy fancy goods store; dolls, toys & more 1899-1930
- address; 39 Rue du Faubourg, St. Martin in 1894
address; 14 Rue Rougement, Paris in 1917
Albert Lévy doll mark Tanagra, registered 2 OCT 1917
Pierre Levy & Cie doll mark Bébé Bijou 1919
Mme. Leydel 1828-1850s
Louis L'Heureux doll mark L'Heureux 1905
L`Hotel de Ville store 1900-1929+
- 1909+ Bébé Réserve, 1918 Bébé Arc-en-Ciel,
1918 Bébé Drapeau dressed in WW I allies flag,
1921 Bébé B.H.V, Bébé Rivoli, Bebe Géant,
Bebe a la Mode, Bebe Fruits
Edmund L'Hotte La Patrouille dolls 1911 Bois-Colombes
doll mark E.L.
Ligue du Jouet Francais doll mark 1914-1916
Michel Lilienthal doll mark Miss Dancing 1922
JD Lilas on a shield bisque head doll mark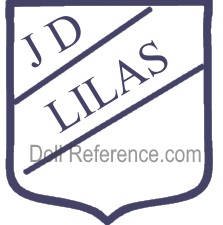 L'Oncle Hansi dolls 1917-1920s
Hansi doll mark La Prialytine Paris, 8 1/2" Yerri & Gretel + others
Genevieve Loudouze doll mark Ninon 1925
Madame Jeanne Louit doll mark Poupées Gauloises 1916
Grand Magasins du Louvre store label 1855-1930+
- Bebe Louvre 1880s, Bébé Baptême 1885
Madame Julienne Lubecka doll mark Bicot
Ludet dolls 1864-1890
Maria Lusse doll mark label Pas Choiseul 63 in 1853-1865+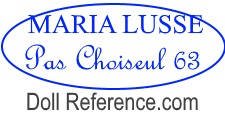 Lyons French Toy doll mark rooster in a circle 1919