Gebrüder Haag wax dolls 1878-1925+
Hermann Hachmeister 1872-1930s
Hahn & Co doll mark Hanco 1921
Simon Hahn doll mark SIHA 1921-1923
Hamburger & Co. doll exporter 1889-1910 and USA
Christian Friedrich Hammer dolls, docken 1730+
Hammer Munitionswerk, Hawadit doll heads 1920
Henrich Handwerck doll mark HH 1876-1932
Max Handwerck doll mark Dep Elite 1899-1930
Hannoversche Gummi-Kamm rubber dolls 1862-26
- doll mark a flying bird symbol
Harburger Gummiwarenfabrik rubber factory 1923
doll mark Phoenix Quick
Carl Harmus Jr. 1873-1930
- doll mark PM Harmus, doll mold 313, 800
Carl Hartmann celluloid dolls 1889-1930
Karl Hartmann doll mark HK 1911-1926
Hauser Co 1922+ also in Austria
Paul Hausmeister gelatin doll heads 1909
doll mark stork standing on one foot
Heber & Company bisque dolls 1900-1922 Neustadt
- doll mark mold 514 HC 17/8
Else L. Hecht art doll mark Hecht Puppe 1913-1926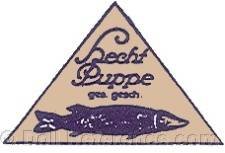 Heine & Schneider 1920-1921 Bad Kösen
doll mark Puppenkunst Elisabeth Heine & Schneider Bad Kosen Saale
or doll mark Schneider's Kunstpuppen Atelier Karl Schneider Bad - Kösen
then became Gunther Heine doll mark 1921-1922
Therese Heininger dolls 1924-1925
doll mark Rose Hein Puppen
Geschwister Heinrich doll mark Maya 1926-1931
cloth stuffed Art dolls
Alfred Heinz doll mold 650 in 1906-1926
Rudolph Heinz & Co porcelain factory 1858-1922+
then Neuhaus am Rennweg Porzellanfabrik Aelteste Volkstedter Porzellanfabrik 1922+
both used doll mark AV, PN doll molds 9500, 9501
Arthur Heinze mechanical dolls 1910-1911
Carl Heinze bisque doll heads 1861+ Hildburghausen
Berthold Helk doll trademark BEHA 1918-1927
- doll mark Rinaldo, Torino
Adolf Heller doll mark A#H AHW 1909-1925
Adolf Heller AH doll heads by Adolf Hulss AHW
Alfred Heller doll mark Diana metal dolls 1901-1910
Heller & Seyfarth 1909-1916
L. Henze & Steinhauser 1897-1925
- doll mark Gehrenia girl with doll
- doll mark Henza Original
Julius Hering & Sohn 1893-1923+
- doll marks JH, JHS, J.H & S, Victoria
Julius Hering & Weithase doll mark H & W 1902+
- 3rd name for Dressel & Koch
Georg Herpich dressed & undressed dolls 1919
Hermsdorfer celluloid dolls 1925-1927
Carl Hermann 1914-1926
Gottlieb Herold Täufling dolls 1891-1921
- dolls with Pa-pa Ma-ma voice box
August Herpich leather dolls 1913-1924
Carl Hermann doll maker 1914 Osnabrück
Hertel, Schwab & Co doll mark 1910-1930s
- also called Stutzhauser Porzellanfabrik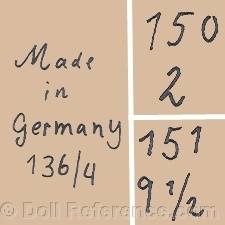 Wilhelm Hertel doll maker 1901-1909 Coburg
Hertwig & Co doll mark 1864-1941 Katzhütte
Herzlieb Puppenfabrik 1928-1930s
Herzpuppen Fabrik doll mark HPF 1923
Albin Hess doll mark 417 ASH 1918-1923 Thuringia
H - continued above
H - continued
Theodore Hess & Co celluloid dolls 1918-1930
Ernst Heubach 1887-1932 Koppelsdorf, Sonneberg
Friedrich A. Heubach doll mark 1900-1926 Sonneberg
Gebrüder Heubach dolls 1843-1938 Thuringia
Gustav Heubach doll mark GH 1923-1937+
- see Erste Steinbacher Porzellanfabrik
- doll mark 510 Ge & H 7/0
- doll mark 19GH04
Hugo Heubach dolls & toys 1894-1925+ Sonneberg
doll mark frog on bicycle
Julius Heubach porcelain factory 1868-1910 Lauscha
- in 1910 became Max Buchhold porcelain factory
Heubach, Kampfe & Sontag 1763-1897 Wallendorf
- Wallendorf Porzellanfabrik, cradle of Thuringia.
then 1897-1918 Kampfe & Heubach bathing dolls
found on china doll mark W, W 2/0
Carl Heumann celluloid dolls 1902-1930 Sonneberg
Hermann Heyde doll trademark HH, HHD 1867-1920
Annette Himstedt 1986-2008
Carl Hoffmeister celluloid dolls 1892-1925 Sonneberg
A. Paul Hopf dolls 1925-1926 Nurnberg, Bavaria
Christian Hopf doll mold 486 Elisabeth 1885-1948+
H. E. Hopf composition doll mark Libra 1924 Neustadt
Carl Horn doll trademark CHND 1906-1930+
- made tiny 1 1/4-3 1/2" Lilliput all bisque dolls, animals
Theodor Hornlein doll mark TH 11879-1925+
Adolf Hulss or Hülß 1913-1930s Waltershausen
- doll mark AHW, looks like ARW or AßW
doll mold 156, 157, 176, 1400
doll trade name Mein Nesthakchen, my nesting baby
Dr. P. Hunaeus celluloid dolls 1900-1925+
Carl M. Hutschenreuther Factory 1814-1930+ Hohenberg
doll mark JHR intertwined
Huttinger & Buschor doll mark Casadora 1920-1928
Oskar Iageman 1912-1920
B. Illfelder & Company 1862-1925+
- as Illfelder Spielwaren dolls 1901+
Fürth, Bavaria and New York City, USA
doll mark 101 My Sweetheart B.J. & Co.
doll mold 30, 101, doll names;
Little Sweetheart doll BICO, Merry Widow doll,
Rosebud A.M., Our Rosebud, 501 Nippon, B.J. Nippon
Leopold Illfelder & Co wax dolls 1882-1894
Carl A. Illing doll mark ILLCO, JLLCO 1925-1930+
Ilmenauer Porzellanfabrik 1777-1930
- doll mark star symbol J 1777, I, J, JPF, a trefoil
Ferdinand Imhof walking dolls 1898-1909
doll mark D.R.P. No. 119857 Patent Landep,
France - Patent Brevete 305-269 SGDG
Indra Kunstwerkstatten doll mark Indra 1922-1923
Insam & Prinoth wood dolls 1820-1930s
Julius Jeidel doll mark Bi Ba Bo 1908
Walter Jugelt doll mark 1924-1925
Jacob Jung celluloid doll mark stork 1912
Simon Junghans doll mark Papp Head 1864-1930s
Friedrich Kaestner dolls 1883 + Ohrdruf, Sazony
Carl Kalbitz doll mark KaLuTu art dolls 1866-1930+
Kalbitz & Junge dolls 1899-1905
Edi Kallista doll mark 1922
Kammer & Reinhardt doll mark K * R 1886-1932
August Friedrich Karl 1926-1927
Marion Kaulitz, Munich Art Dolls 1901-1923
- also called Münchner Künstler Kaulitz-puppen
- doll mark KI, K2, KIII and
V2 for Paul Vogelsanger artist and sculptor
Keramisches Werk Gräfenhain doll mark KWG 1932-43
- see Simon & Halbig
Kestner, King of Doll Makers mark K & CO 1820-1938
K - continued above
K - continued
Kewpie dolls, German, Japan, USA 1909+
Alwin Kiesewetter 1907-1925 Coburg, Thüringia
Anton Kiesewetter 1884-1918 Neustadt, Thüringa
Vve. Anton Kiesewetter 1918-1925
Franz & Hermann Kiesewetter 1912+ Neustadt
Georg B. Kiesewetter 1895-1906 Sonneberg
Max Kiesewetter 1900+ Sonneberg
- founder Erste Steinbacher Porzellanfabrik
Reinhardt Kiesewetter 1898 Neustadt
Charlotte M. Kirchhoff doll mark 1925
Mutzi Puppen Kirchhofff Werkst.
A. W. Fr. Kister China dolls 1837-1930+
- owner August Wilhelm Friedolin Kister
doll mark KPM X
Woldemar Kittel dress dolls 1895-1908 Coburg, Thür.
Johann Heinrich Kletzin & Company 1920-1921
Kley & Hahn doll mark K & H 1895-1931
CF Kling & Company doll mark K, bell symbol 1834-1941
Johann Heinrich Kletzin & Sons 1922-1926
- doll mark laurel wreath, wheat sheaths symbol
Kloster Veilsdorf Porzellanfabrik 1760-1930
- see Closter Veilsdorf Porzellanfabrik
Kloster Vessra doll mark F & L, P.V. 1890+ Saxony
- owner Edmund Ickel
Erich Klötzer doll mark EK, WKS, EK intertwined 1910+
Joseph Krauss & Company doll mark JKC 1912 +
Guido Knauth Doll Factory 1872-1930s Orlamünde
doll mark Knauth, doll mold 50, 301, 501 Knauth
Knigseer ARI Germany GDR doll house 1960s+
Edmond Knoch doll mark crown symbol EK 1896-1975
Gebrüder Knoch doll mark two crossed bones 1877-1919
Carl Knoll Porzellanfabrik 1842-1945 Fischern
- doll mark CK doll mold 701
Koch & Weithase dolls 1893-1905
- 2nd name of Dressel & Koch
merged with Julius Hering & Weithase 1904-1905
Carl Kochniss doll factory 1888-1930+
Victor Kochniss dolls parts 1914 Oberlind
Kohl & Wengenroth doll mark KOW 1902-1926
Kohl & Wengenroth doll mark W symbol
L. G. Kohler papier mache dolls 1862
Kohler & Rosenawld doll mark Kolundro 1925--1927+
- successor of Josef Deuerlein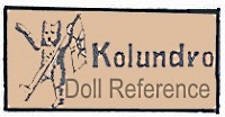 Moses Kohnstam doll mark MOKO 1867-1935
M. Kollner bathing dolls 1923-1925
Andreas Konig dolls 1890-1909
Konig & Rudolph dolls 1912-1914 Waltershausen
Konig & Wernicke doll mark KW, KWW 1911-1930
Konigliche Porzellan Manufactur KPM 1710-1930+
- King's Porcelain Factory, Meissen, Berlin
- KPM Berlin doll marks, see China dolls
Koppelsdorfer Porzellanfabrik, see Ernst Heubach
Gustav Korn doll mark GK 1903-1927
Hermann Kösel dolls 1921-1923
W. Kraatz wax dolls 1844 Berlin
Kraemer & Van Elsberg dolls 1913-1914
C. Krahmer doll mark C.K.F. 66 1915-1919
Hildegard Krahmer wood head cloth body doll 1947+

Otto Krampe dolls 1902-1903

- Dornröschen Sleeping Beauty doll

Otto Krause dolls 1908-1914 Neustadt

Gebruder Krauss papier mache, wood 1863-1921

Samuel Krauss doll mark 1853-1873 Rodach
Werner Krauth doll mark 1920-1921
Hilde Lotte Krayer doll mark symbol 1929 Berlin
Kreuger dolls 1920s / NYC
doll mark a size number GERMANY K
Georg Kreutzer dolls 1918-1925
Otto Kreyssig dolls 1900-1909 Berlin
Johannes Kriege dolls 1904-1905
- Das Süsse Trudelchen (The Sweet Little Dancer)
Adolph Kröhl doll mark AK 1830-1898 Berlin
Käthe Kruse cloth dolls 1910 +
E. Kubler & Co. rubber doll mark Vetter Nick 1924
Franz Kuhles dolls 1894-1930s Catterfeld, Ohrdruf
- also called Ohrdruf Puppenfabrik, Spezial doll
Gebruder Kühnlenz doll mark GbrK 1884-1935 Bavaria
Herman Küsel dolls 1897-1912