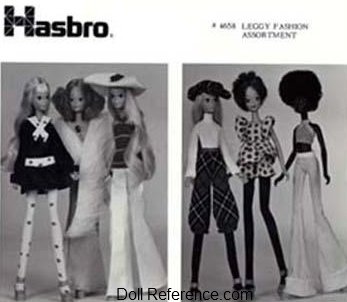 Hasbro Leggy doll clothes 1972 ad Fashion Assortment
Hasbro's Leggy dolls are 10" tall and can be identified by their excessively long legs. They were a modern doll in that their clothes reflect the modern 1970's era when they were produced, the Leggy dolls names are: Jill, Nan, Kate and Sue.
Leggy dolls have their own clothing line that was sold separate from the doll called Fashion Assortments.
The Leggy dolls seem to be more popular in Europe and Canada than the USA, as that's where we find them in online auctions. Polistil in Italy and Shiba of Japan also sold versions of Leggy dolls overseas.
See below for more Leggy dolls identified.