Adrian cloth dolls of Italy, dates unknown
Alma Creations Doll Company cloth dolls 1929-1933
Anili Doll Company cloth dolls 1948-1986
Anri of Italy wood or wooden dolls 1989+
Natale Antenori dolls 1917 Rome, Italy
Athena Piacenza plastic doll mark 1950s
Francesco Bardelli plastic dolls 1950s+
Giuseppina Bonomi Doll Company 1933-mid 1960s
- best known for their Jenny doll 47 cm. tall made in 1957
Bonomi doll mark MC Made Italy or BONOMI ITALY
BREVETTATO (patented) plastic doll mark 1950s, Italy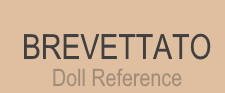 Gaspare Burgarella unmarked composition dolls 1926-1935
- clothing marked with the label Burgarella Made in Italy

Cabar Doll Co., then Gabar, plastic doll mark MARTINE 1950-1974
Capo Di Monte dolls 1700s+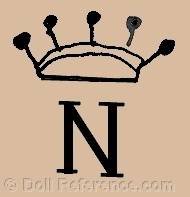 Capo Di Monte doll mark crown symbol N
Cares Doll Company plastic dolls 1950s, Italy
Cares doll mark on neck Made in Italy Cares, on back Cares Brev. 491220
Cavicchi Doll & Toy Importer, plastic dolls 1966+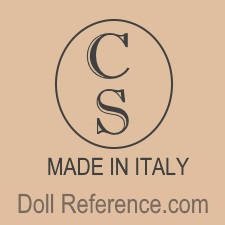 Cavicchi doll mark CS Made in Italy
Enzo Ceccon Bambola doll mark cb 1960s-1980s
Ceppiratti Doll Co 1970-1999+, then Giochi Preciosi Spa
Consuelo Originals wool cloth vegetable dolls 1920s
Creche doll figure = Holy doll figure 1400s+
Laboratorio Monte Dragone dolls by artist Stefania Rossetti 1980+ Italy - dolls, Babies, Fairies, Elves, Gnomes, Goblins porcelain character dolls, all richly & beautifully dressed
Effe of Italy doll mark Effe Bambole Franca 1950s+
Elza doll company label mark 1950s+ Rome, Italy
Eros cloth dolls of Tirolo 1920s
Famola plasic dolls 1950s
Fata Doll Factory Milano, Italy 1929 to late 1960s
- dolls are unmarked, had a paper tag stapled to clothing, crown symbol, FATA, Milano
Fiba plastic dolls 1950s+
Finzi & Bianchelli dolls & doll clothes 1910s, Rome & Florence
- bisque doll head marked M.F. 48 3/0 (see Mayer Fels)
paper label attached to dress Finzi e Bianchelli Roma, Firenze
Fiori cloth dolls are unmarked, had a five pointed star FIORI tag 1920s
Aldo Folli & Figlio dolls 1960s?
Mario Franco dolls 1921-1922
Luigi Furga doll mark person standing symbol 1872+
G with crown symbol doll mark label Made in Italy 1980s
- porcelain with cloth body jester doll, Eros doll or guardian angel, as a symbol of love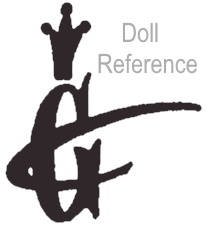 Gabar dolls 1974-1992
Galba dolls, dates unknown, plastic dolls, also collaborated with Galletti, Baravelli & Depreux of France
Galba doll mark stork symbol carrying a baby Made in Italy
Galletti celluloid doll mark two Roosters symbol Italy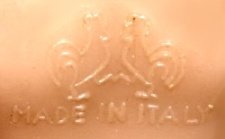 Giocattoli Giachetti dolls 1950s-1960s (Giachetti Toy)
Globo S.r.l. dolls & toys 1982+ Italy, Kurhn Flow dolls
Graziella Doll Company plastic & vinyl dolls 1970s ?
H symbol MRN doll mark 1950s Italy, unknown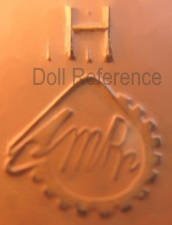 Italarts & Company cloth tourist dolls 1960s
Italocremona Doll Company 1922-present
Italocremona doll mark IC Made in Italy
- Italocremona began making dolls & toys in the 1950s until 1989 - their most famous dolls are the tall fashion dolls named Jenni, Jusi, Juli (1964) that had great clothes, the dolls are direct competitors for Furga's Alta Moda girls.
Also, in 1965 little sister's Nancy or Kitty and Marie-Claire who was specifically made for the hip French magazine "Marie-Claire", Corinne and a doll named Vanessa who was made for the American market. Corinne also has two younger sisters, the youngest was Corinnette (1976) and the slightly older one was Sissi or Suzanne (1974) depending on the destination market.
Jtalӱ I/o, Made Jtaly I /9 doll marks on bisque head dolls, Italy, Italian doll maker unknown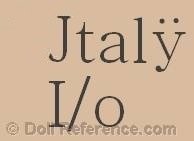 Karavan cloth dolls 1920s
La Rosa of Milan cloth dolls 1920s
Lenci di Elena Scavini cloth doll hang tag 1919-2001 Torino, Italy
Levia of Milan or Milano, Italy rhodoid (heavy hard plastic) dolls, some with flirty eyes 1950s - came with a hangtag and on back of neck doll mark LEVIA, MILANO, BREVETTATO (patented).
Magis of Roma / Rome, Italy cloth doll mark label 1920s+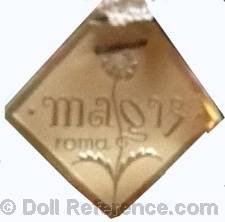 Magit of Torino cloth dolls 1920s+
Magiurin of Torino cloth dolls 1950s? +
Mantuan bisque head china dolls ca. 1880-1930 - Mantua, Italy (possibly by Furga)
Marigio Italian Doll Creations porcelain dolls 1980+
Marguerin dolls 1920s
Mayer & Fels bisque head doll marks 1930s, Milan, Italy
| | |
| --- | --- |
| Mayer & Fels doll mark MF | Mayer & Fels doll mark MF 48 or M shield symbol doll F 40 12 |
Maura doll mark Made in Italy Brev., dates unknown Italy
Messina-Vat cloth dolls 1924-1930s (Lenci like)
Messina-Vat cloth doll mark VAT Made in Italy Torino
Migliorati plastic dolls 1960s-1990s Italy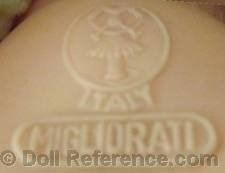 Migliorati doll mark a girl symbol holding an initial M
Carlos Ottolini doll mark two reclining lions in a triangle or unmarked plastic dolls 1950s+
Michael (Mario) Querzola plastic dolls 1950s+
doll mark tree symbol MQ inside a triangle Made in Italy
Polistil bambola or Palitoys APS plastic dolls 1960-1993
Pusmo wooden carved court dolls ca. 1400
- Empress Poppaea Sabina is the supposed origin of the French word poupée doll
Ratti Doll Company 1913-1969, after 1969 bought by Mattel
Ratti doll mark two rats symbol Made in Italy
Regina Cloth Doll Company, (Frienze) Florence, Italy
Luigi Rolfo dolls 1928-1930s
Sacati cloth dolls of Torino, Italy
Santibelli dolls - saints figure or religious figures 1700-1800s
SAMCO of Italy doll mark, dates unknown, probably 1960s+
SCB Società Ceramica di Bollate of Milano dolls, early 1900s+
Società Ceramica di Bollate doll mark SCB
Sciatrice of Italy hard plastic dress me dolls 1960s
TG SEBINO Doll Company hard plastic & vinyl dolls 1960s+
A. Varale & Company dolls 1927-1930
Alberto Alberani & Amelia Vecchiotti doll mark tag 1920s+ Milano
Zanini & Zambelli plastic plastic doll mark Italy Z. Z. 1960s+
Alfredo Zellini plastic doll mark AZ 1940s