Barbie Dolls 11 1/2"
Barbie Clothes
1975-1976 | 1977+
Doll & History Bild Lilli
Dolls 12"
Ken Clothes
Dolls 9 1/4"
Skipper Clothes
Dolls 11 1/4"
Francie Clothes
Dolls 6 1/4"
Dolls 11 1/2"
Clone Dolls
Skipper had six "Best Buys" outfits in 1974 and two Get Ups N' Go outfits.
Note: Mattel discontinued naming the outfits in 1972.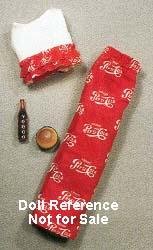 7770 Pepsi outfit (1974)
Best Buys
White crop top with two Pepsi red & white fabric ruffles, & elastic waist pants in the Pepsi material, a plastic hamburger, bottle of Pepsi. VHTF Barbie's #7756 & Ken's #7761 are the matching Pepsi outfits.
7771 Hawaiian dress (1974) Best Buys
Sun dress in a Hawaiian print trimmed with pink ruffle & sleeves and Hawaiian print shorts. (Ken's matching outfit #3387 is a shirt, shorts of this Hawaiian material & Barbie's # 7751 had a matching Hawaiian halter top with blue jeans.
7772 White pants, blue & white print jacket (1974) Best Buys
White elastic waist pants, blue & white print jacket with white collar & cuffs.
7773 Short dark print dress, red vest (1974) Best Buys
Navy floral skirt dress with red vest & white placket & short sleeves, white tricot half slip with ruffle.
7774 Red print maxi jumper, white blouse (1974) Best Buys
Red with blue & yellow floral print long jumper with white tricot blouse with lace & red bow.
7775 White, pink floral maxi dress (1974) Best Buys
White long sleeve maxi dress with pink & yellows flower print, bottom ruffle & black velvet ribbon trim.
7847 Flower Girl (1974-1976) Get Up 'N Go
Yellow nylon dress with bottom ruffle, yellow dotted sheer over dress with white short sleeves, white grosgrain ribbon at waist, white dotted sheer pinafore, yellow tulle headband, white Taiwan flat shoes.
7848 Beach (1974-1975) Get Up 'N Go
Red two piece nylon swimsuit, red & yellow short top, multi-print dress, pants & headband, white shorts with yellow hankie, yellow terry beach towel, orange plastic snorkel, mask & fins.
related Dolls Skipper & Ginger | Skooter, Fluff & Tiff Clothes 1964-1970 | 1971-1979
11 1/2" Dolls Barbie | Bild Lilli | Midge | Stacey | Christie | Truly | Julia | PJ | Jamie | Steffie & Babs | Miss America | Kelley & Cara
Clone Dolls Barbie | Bild Lilli | Skipper 12" Dolls Ken | Allan | Brad & Curtis 11 1/4" Dolls Francie | Casey & Twiggy
9 1/4" Dolls Skipper & Ginger | Skooter, Ricky, Fluff, Tiff 6 1/4" Dolls Tutti, Chris, Todd, Buffy, Pretty Pairs, Carla
Clothing Barbie | Ken | Francie | Skipper | Tutti | Barbie Gift sets | 1966 Doll Marking | Clothing Tags | Rare | Miscellaneous
--------------------------------------------------------------------------------------------------------------------------------------------------------------------------------
For Sale | Forum | Glossary | Marks | Values
All trademarks are respective of their owners with no affiliation to this site

Doll Reference © Copyright 2004 - 2023 all rights reserved including photos & content