Barbie Dolls 11 1/2"
Barbie Clothes
Doll & History Bild Lilli
Dolls 12"
Ken Clothes
Dolls 9 1/4"
Skipper Clothes
Dolls 11 1/4"
Francie Clothes
Dolls 6 1/4"
Dolls 11 1/2"
Clone Dolls

Shop for Barbie vintage 1967 doll clothes

Barbie got twenty-seven new outfits in 1967 plus six pak items, three Sears exclusives and two gift sets.
1440 Pink Sparkle 1967
Pink brocade sleeveless dress, hot pink chiffon cape with ties, deep pink open toe heels.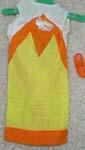 1460 Tropicana 1967-1968
Sleeveless yellow, orange and white dress, and orange closed toe pumps.
1470 Intrigue 1967-1968
Gold lame` and white knit with gold metallic thread in diamond pattern sheath dress with attached belt, gold and pink lined coat gold belt to coat, bone closed toe pumps or white closed toe pumps.
1683 Sunflower 1967-1968
Sleeveless cotton dress with bold floral pattern, two pink plastic snake bracelet, pink and navy plastic drop earrings, hot pink closed toe pumps.
1685 Underprints 1967-1968
Hot pink half slip, matching bra, panties, panty with garters, aqua princess phone, aqua brush, comb and mirror.
Silk sleeveless sheath in either pink, medium blue, green and hot coral block dress or a darker version as shown with navy, pink and coral, not shown; hot pink rectangle drop earrings, hot pink closed toe pumps.
1687 Caribbean Cruise 1967
Yellow sleeveless silk jumpsuit with ruffle trim, not shown; soft yellow flats.
1688 Travel Togethers 1967
Yellow print jacket, skirt, matching hat, red closed toe pumps.
1690 Studio Tour 1967
Sleeveless red, green and yellow polka dot dress with black braid trim bows, matching hat, red closed toe pumps.
1691 Fashion Shiner
1967-1968
Sleeveless pink, white and blue stripe knit halter dress, red shiny vinyl coat, not shown; matching shiny purse with handle, short white tricot gloves, and red closed toe pumps.
1692 Patio Party 1967-1968
Blue and green satin sleeveless hostess dress with front split, multi-color floral nylon one shoulder jumpsuit, earrings; either navy blue drop earrings with brass post and chain with four round accents, or earrings with small plastic discs with hole in center, either blue closed toe pumps or dark navy blue closed toe heels.
1694 Pink Moonbeams 1967-1968
Either hot pink lace and sheer gown, matching robe, not shown light pink open toe heels or light pink lace gown, matching robe, shoes as noted.
1695 Evening Enchantment 1967
Red chiffon evening gown, red chiffon overskirt cape with marabou, note silver purse shown was not included, red closed toe pumps.
1696 Floating Gardens 1967
Multi-colored nylon floral print sleeveless long dress, not shown is the red hooded sheer, georgette cape, red closed toe pumps, red and hot pink plastic dangle earrings with brass posts and two plastic bracelets; red and hot pink.
1697 Formal Occasion 1967
White long sleeve evening gown with gold metallic trim on bottom, gold lame` and hot pink chiffon cape with hood, ties, lined, white closed toe pumps.
1698 Beautiful Bride 1967
White satin wedding gown, white satin underskirt with tulle, dotted tulle veil, bouquet with four white grosgrain ribbon streamers, white velvety flowers with pearl centers, one velvety flower opened with yellow center and two chiffon buds with green tulle fern, white short tricot gloves, blue garter, white closed toe pumps. HTF bride outfit and highly sought by collectors.
1775 Stripes Away 1967
Color Magic outfit, olive green, hot pink and orange sleeveless long dress, matching scarf, not shown; two color changers "A & B" , white sponge on red handle & two pink snake bracelets. No shoes were included.
1776 Smart Switch 1967
Color Magic outfit - Sleeveless yellow top with hot pink braid belt with gold buckle, hot pink, blue and yellow stripe skirt, matching head scarf, red handled sponge, color changer packet A or B.
1777 Pretty Wild! 1967 HTF
Color Magic outfit - Multi colored sleeveless dress, matching hat, tote bag, red or yellow sponge application, color changer packet A or B.
1778 Bloom Bursts 1967
Color Magic outfit - Multi colored sleeveless dress with ruffle, pink organza bonnet, red or yellow sponge applicator, color changer packet A or B.
1779 Mix n' Matchers 1967
Color Magic outfit - same as #4041 Color Magic Fashion Fun 1966, yellow multi-print blouse, skirt with ruffled hem, hot pink pants with print pockets & ruffled hem, hot pink flat shoes, color changer packets A & B, spoon, bowl, 2 applicator sponges. Also same as #1043 Sears Exclusive 1966, which included a Color Magic doll.
1805 Bouncy Flouncy 1967-1968
Sleeveless silk multi print dress, matching purse, orange closed toe heels.
1806 Pajama Pow 1967-1968
Multi colored jumpsuit, red, pink and gold dangle earrings, yellow soft flats.
1807 Disco Dater
1967-1968
Orange pleated dress, orange lace over blouse VHTF, orange closed toe heels.
1808 Drizzle Dash 1967-1968
Hot pink and orange raincoat, matching scarf, orange mid-high rain boots.
1809 Mini Prints 1967-1968
Multi color abstract print dress, matching hose, royal blue soft bow shoes.
1810 Bermuda Holiday 1967-1968
Orange and hot pink multi colored floral tunic sleeveless top, matching floppy brim hat, solid green bermuda shorts, soft pink flats, green plastic Barbie hangar and fashion booklet.
1815 Weekenders
Sears exclusive 1967
Hot pink, burgundy and green striped jacket, matching top, and pants, matching hat with green visor, hot pink flats.
1816 The Yellow Go Sears exclusive 1967
Yellow cotton coat, matching hood, light blue vinyl purse with gold chain, pale yellow textured hose, blue low bow heels.
1817 Red Fantastic
Sears exclusive 1967
Coral pink satin gown, matching cape short satin cape trimmed in white marabou, coral pink or hot pink closed toe heels.
1818 Velvet Teens
Sears exclusive 1967
Dark red velveteen jumpsuit with white ruffled top, matching jacket, hot pink soft toe flats.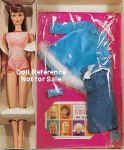 3303 Beautiful Blues Gift set
Sears 1967
Standard #1160 Barbie doll with orange vinyl swimsuit and white net cover-up, plus blue lame` sleeveless dress, blue satin coat with marabou trim, blue plastic clutch purse, blue closed toe heels and a white hanger.
Barbie Goes Braniff 1967 Montgomery Ward

Designed by Emilio Pucci Stewardess Hostess Outfits are; 1. Puccino Serving Dress in yellow and rose with shoes 2. Raspberry Suit with shoes, 3. Hostess Culottes in blue with shoes 4. Boarding Outfit in lime green with clear helmet with boots. These were made by Marx and are marked made in Hong Kong.
Ken has a co-coordinating Braniff Pilot uniform also by Marx.
Barbie Inland Steel
or Barbie Loves the Improvers 1967 Gift set
The Barbie Inland Steel gift set used the 1190 Straight leg Barbie doll in her two piece pink swimsuit, wearing a unique silver cardboard drum shaped over dress, modeled after a futuristic Paco Rabanne design. This is thought to be a mail in promotion, as all dolls have been found to date in brown cardboard mailers with plain white insert boxes.
Pak Flats n Heels 1967-1968
12 pairs of shoes; Closed toe heels; red, hot pink, bone, black and turquoise. Bow shoes, royal blue. Open toe heels; green, hot pink, turquoise and white. Pink flats, gold tone cork wedgies.
Pak Fancy Trimmins (1967)
Blonde or brunette hair braid with brass clip and red ribbon trim, closed umbrella with red fabric, blue and red purses with handle, blue closed toe heels, red open toe heels, short white gloves and white lace panty hose.
Pak Skirt Styles 1967
A straight skirt that matched the "Top Twosome" top and a plaid flared skirt.
Pak Top Twosome 1967
A scoop neck top and white blouse from this set is the same style as: 916 Commuter Set, 967 Picnic Set, and 1624 Day At The Fair.
Pak Cook-Ups 1967
Three sizes of casserole dishes with lids, black handle, teapot with lid, coffee maker, toaster with toast, two plates, two cups, two saucers.
Pak Best Bow 1967
Dress design is same as #3. 1651 Beau Time. There were about six different fabric combinations & possibly others. Shown is;
1. Red top with #1000 Allan's stripe beach coat fabric skirt.
2. Red top with #1418 Ken's Time To Turn In, navy with red dot skirt. 3. #1651 Beau Time dress in blue with red stripe.
4. White or red top with with red patterned #1936 Skipper's Sledding outfit fabric. 5. Red top with sky blue and white floral skirt 6. Red top with Pak Go Everywhere or On The Go floral fabric skirt. 7. Red top with #964 Gay Parisienne, blue with white dot skirt.
Barbie Clothes 1959-1963 | 1964-1965 | 1966-1968 | 1969-1970 | 1971-1972 | 1973-1974 | 1975-1976 | Japanese | Rare Barbie Dolls 1959-1962 1963-1967 1968-1972 1973-1976
All trademarks are respective of their owners with no affiliation to this site

Doll Reference © Copyright 1999-2023 all rights reserved including photos & content