Barbie Dolls 11 1/2"
Barbie Clothes
1975-1976 | 1977+
Doll & History Bild Lilli
Dolls 12"
Ken Clothes
Dolls 9 1/4"
Skipper Clothes
Dolls 11 1/4"
Francie Clothes
Dolls 6 1/4"
Dolls 11 1/2"
Clone Dolls
The Mattel Julia doll is part of Barbie's extended family of dolls. Julia is one of two personality dolls and is based on the television show "Julia", played by actress Diahann Carroll (the other doll is Truly Scrumptious).
Julia is one of the few Barbie sized dolls who has her own tagged wardrobe of outfits designed specifically for her and shown below. Other Barbie sized vintage black dolls are Christie and Cara.
1127 Julia Twist 'N Turn Doll (1969)
A black doll with light brown skin, brown eyes, short straight brown hair , uses the Christie head mold, (that is probably oxidized to a shade of red), rooted eyelashes, black doll with bendable knees, twist n turn waist, HTF dressed in the two piece white nurse uniform, with cap and panties, white pilgrim heels, clear X stand.
Marking: © 1966 Mattel, Inc. U.S. Patented U.S. Pat. Pend. Made In Japan.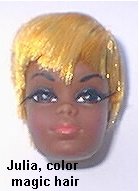 1127 Julia doll with supposedly color magic hair in a golden yellow color, this is achieved using a bleach pen on the dolls regular black hair, people fall for it, so the scammers keep doing it. Look at the dollar difference. There is NO SUCH THING as a Color Magic Julia doll.
1127 Julia Doll Twist 'N Turn (1970-1971)
New one piece white nurse uniform, nurse cap, white pilgrim heel, rest same as 1969.
1128 Talking Julia Doll
(1969-1970)
Julia is a black doll with light brown skin, brown eyes, short straight brown hair (that is probably oxidized to red) and also found with the bubble cut hair style, rooted eyelashes, with bendable knees, talking doll, dressed in a gold and silver one piece jumpsuit with attached belt, HTF ginger with gold flecks open toe heels, clear X stand.
Marking: © 1967 Mattel, Inc.
U.S. & Foreign Pats. Pend. Mexico
1128 Talking Julia Doll (1971-1972)
Skin tone is a little darker, new modified style hair, rest is the same as 1970. Marking: © 1967 Mattel, Inc. U.S. & Foreign Pats. Pend. Hong Kong. Note: Has the same markings as 1971-1972 Talking Christie doll.
1751 Leather Weather (1969-1970)
Red double breasted vinyl coat, pink sleeveless top, red, blue, pink & white plaid mini skirt, red pilgrim shoes. Not shown, red vinyl clutch bag
1752 Brrr-Furrr blue (1969-1970)
Lime green silk sheath bodice with aqua textured skirt, matching jacket with faux lime fur trim with aqua vinyl belt, lime green hat, aqua pilgrim heels.
1752 Brrr-Furrr red (1969-1970)
This red variation is less common than the blue. 3/4 length red, white tweed coat with fuzzy white faux fur collar that goes all the way down the front closure, red plastic belt, dress has a white top with a hip style red & white tweed skirt attached, trimmed with red vinyl. Both contained the same matching accessories, fuzzy red hat with white feather trim (not shown), should be red or dark pink pilgrim heeled shoes, this could come in Barbie packaging, rather than Julia's.
1753 Candlelight Capers (1969-1970)
Shown in a variation, solid gold metallic lame` top of dress, most were made in an orange, with gold metallic threads knit top, attached yellow velvet mint skirt, yellow velvet cape with gold braid trim, matching yellow velvet and feather hat, yellow pilgrim heels.
1754 Pink Fantasy 1969-1970
Rose tricot gown, lace bodice, sleeveless robe with three tiers of nylon in matching shades, pink nylon rosette and ribbon tie, gold slippers with rose poufs or hot pink pilgrim heels.
1594 Julia Doll Simply Wow Gift set 1969 Sears Exclusive
This included a 1128 boxed talking Julia doll in the gold & silver jumpsuit as noted above, a blue with white bodice top with gold trim dress, matching jacket, blue pilgrim heel shoes, and blue hanger.
Barbie Clothes 1959-1963 | 1964-1965 | 1966-1968 | 1969-1970 | 1971-1972 | 1973-1974 | 1975-1976 | Japanese | Rare Barbie Dolls 1959-1962 1963-1967 1968-1972 1973-1976

Julia Vintage Doll Resources:

Collectors Encyclopedia of Barbie Dolls & Collectibles book in 1984 by Sibyl DeWein and Joan Ashabraner.

Barbie Doll Fashion: The complete history of the wardrobes of Barbie doll, her friends, family, vol. 1 1959-1967 in 1990, vol. 2 1968-1974 in 1997 by Sarah Sink Eames

.
Cookie Policy | Privacy Policy | Affiliate Policy | About Us
All trademarks are respective of their owners with no affiliation to this site

Doll Reference © Copyright 1999-2023 all rights reserved including photos & content