(860) Midge doll Straight Legs
1963-1967
Straight legs, blonde, brunette or titian saran hair, hard plastic body, blue centered eyes, freckles, (some have teeth), two piece nylon swimsuit (see above for correct hair and swimsuit colors), white open toe heels, and black wire stand. There are rare dolls that have side glancing eyes or eyes of colors other than blue and this would make the values higher.
Doll mark: Midge T.M. 1962 Barbie 1958 by Mattel, Inc.
1964-1966 Midge doll - the same doll as 1963 with the word "Patented" added as a last line on the markings.
1967 Midge doll - same doll as 1966.
(1080) Midge doll Bendable Legs 1965-1967
Bendable legs, new shorter hair style in blonde, titian, or brunette, new multi-color one-piece striped swimsuit, turquoise open toe heels, blue ribbon hair band, new gold wire stand. (some intaglio markings as Miss Barbie).
Doll mark: (engraved) 1958 Mattel, Inc. U.S. Patented U.S. Pat. Pend.
1966-1967 Midge doll - same as 1965, added to markings last line (raised print) Made in Japan. Late in 1966 all the markings were raised instead of part engraved.
4035 Barbie and Midge dolls Color N' Curl set 1965
One molded Barbie doll head with blue headband, one molded Midge doll head with orange headband, four wigs, wig stand, battery operated hair dryer, color changer solution and miscellaneous hair items.
There are other sets on Barbie's page, but this is the only one that featured the molded head Midge.
(1009) Midge doll Wig Wardrobe 1965
One molded Midge doll head with orange headband, three wigs; titian pigtails, blonde swirl n curl, brunette topknot pouf.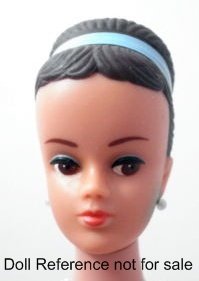 1965-1966 Japan New Midge doll face
1965-1966 Japan New Midge doll
Available only in the Japan market, the New Midge came with molded brown hair with a center part and no bangs, has a blue molded, painted headband, brown side glancing painted eyes, no freckles, straight non-bending legs and body as the USA Midge doll.
She looks very different than the USA sold Midge doll.