3206 Simply Summer (1973)
Fabric used in 1971 Bubbles and Boots #3421 for the big floppy hat and skirt. Form fitting top has a high collar and blue vinyl belt at waist. A green satin ribbon and two orange flowers accented the hat and green square toe shoes.
Photo courtesy Anja Rumbarger
3208 Anytime Orange (1973)
Two piece orange jumpsuit with jacket and purple pilgrim closed toe heels.
3343 Raining Flowers (1973)
Floral print in two fabrics peasant dress with leg of mutton sleeves, red ribbon & flower at waist, square toe red shoes.
3346 Aboard In Blue (1973)
Two piece red, white & blue skirt & top, red square toe shoes.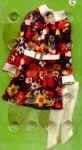 3347 Short 'N Sweet (1973)
Big fantasy flowers on a navy blue background satin dress with an A-line skirt, white collar, small bow just under collar, cuffs and vinyl belt with a silver buckle. White tricot knee-hi socks and white square toe heels.
3348 Sunny Sleep Ins (1973)
Yellow sheer baby-doll nightie lined in tricot and trimmed round the neck and bottom in white lace. Yellow ribbon straps. Matching sheer sleeveless robe, trimmed round the collar with white lace, tied with a yellow satin ribbon.
8620 Fancy In Flowers (1973)
Short sleeve top with lace neck trim, with attached suspender floral fruit long skirt with bottom ruffle, red square toe shoes.
8621 Blue check gingham (1973)
Two piece blue & white check gingham skirt & blouse with co-coordinating ruffle with flowers, white square toe shoes.
8622 Jumpsuit with halter top (1973)
Hot pink tricot pants, orange sheer over skirt, white tricot halter top. White lace over blouse, with an orange & pink corsage, orange ribbons. Silver clutch purse, red pilgrim chunky shoes
8623 Garden Wedding (1973)
Long white bride's dress with sheer white overdress and long sleeves, white ribbon at waist, single white flower with green tulle and white ribbon bridal bouquet, white tulle veil, white cut outs high heel shoes.
Photo N/A
8626 Shoes 'N Boots for Barbie (1973-1974)
Four pairs of chunky high heel shoes; black, white, yellow, red and three square toe pumps in white, turquoise, pale pink, one pair tan knee high laced up plastic boots.
Photo N/A
8680 Stylish Chic (1973)
Modisch Chic in Germany
Festively Elegant, Festligt Elegant in Sweden
A wild fabric design in jersey, long dress with a halter top & red shoes closed toe heels with cut-outs.
8681 Rock and Blouse (1973)
Rock und Bluse in Germany
Chic and Neat, Chic Och Proper in Sweden
This outfit co-ordinates with 8682 Tan coat, the tan fleece skirt has a v pleat & slightly gathered waist, the red and tan knit sweater has a turtle neck collar.
8682 New Fashion Coat (1973)
Neue Mantelmode in Germany
Yellow Autumn Leaf, Hostluvsgul in Sweden
Tan fleece coat with a tan faux fur collar and tan fabric tie belt.
8683 Nice Combination (1973)
Hubsch Kombiniert in Germany
Modern Combination, Modern Kombination in Sweden
Long hot pink and yellow geometric print tricot pull-on gathered skirt, solid yellow wrap midriff tricot blouse with waist tie, yellow square toe low heel shoes. There may have been color variations in the solid blouse colors.
8684 Barbie in Springtime (1973)
Barbie en Primavera in Mexico
Romantic Look, Romantik-Look in Germany
Off white muslin dress with natural crocheted neckline trim, cuffs & bottom ruffle. Single red flower accent at the waistline on grosgrain ribbon. Off-white square toe shoes.
Photo courtesy Anja Rumbarger
8685 Slacks Fashion (1973)
Aktuelle Hosenmode in Germany
Leisure Fashion, Fritidsmode in Sweden)
One piece jumpsuit printed navy pants, white outlined flowers and brown turtles, white tricot long sleeve blouse, yellow knit vest. Yellow square toe heels
8687 Pantsuit With Fur (1973)
Hosenanzug mit Pelz in Germany
Teenage Dress, Tonarsdress in Sweden
Two piece pink pant suit with a pink tricot backless blouse & white square toe heels.
8688 Lacy Elegance (1973)
Spitzen-Eleganz in Germany
Exclusive Elegance, Exklusiv Elegans in Sweden
Long rose halter dress, black dotted net overskirt
8689 Cocktail Party in Germany (1973)
Festival in Sweden
Long satin gold skirt, sheer white long sleeve blouse.
8690 Nice for Bed (1973)
Hubsch ins Bett in Germany
Pink satin robe, white and pink sheer nightgown
8691 Chic Weekend (1973)
Chic ins Wochenende in Germany
Fine Summer, Sommarfin in Sweden)
Red and white polka dot skirt, pants, white blouse, white plastic mesh with red fabric trim hat red pilgrim heel shoes
Photo N/A
8692 Festive Weekend (1973)
Festlicher Abend in Germany
Teen Dance, Tonarsba in Sweden)
Blue lace bodice and high collar with lavender ribbon accent at the neck and waist long peasant gown, two pink fabric flowers on waist, blue pilgrim closed toe heels.
7700 A Barbie Doctor's Professional Attire (1973-1976)
Get Ups n' Go
7701 Graceful Costumes for a Ballerina (1973-1974)
Get Ups n' Go
7702 Bright Gear for Camping Out (1973)
Get Ups n' Go
7703 Authorized United Airlines Stewardess Uniform
(1973-1975)
Get Ups n' Go
7726 Sew Magic Add-Ons Barbie and Ken Fashions
(1973-1974)
Fourteen outfits to sew.
8670 Sew Magic Barbie Doll Fashion Set (1973-1975)
Four outfits, sewing machine, mannequin, fabric, patterns and notions. Long printed skirt, rose blouse and& bag, short yellow skirt, printed blouse, baby dolls, a blue, white printed dress.