Francie doll is Barbie's modern cousin she was introduced in 1966 and has a slimmer body style than Barbie and is 11 1/4" tall. Francie had twenty outfits in 1966, plus one Sears and one JC Penny gift set exclusives.
1250 Gad About
1966-1967
Blue and green knit sweater, green knit skirt, matching hose, soft green flat shoes, blue plastic sunglasses or rare white sunglasses with green or blue stripe. Mattel reproduced this outfit in 1996 as the 30th anniversary of the Francie doll.
1251 It's a Date 1966
Aqua and lime green long sleeve dress with stiff white collar and cuffs, pale blue patterned hose, soft aqua low heels.
1252 First Things First 1966
White full slip, matching panties, petti-pants, garter belt, skintone panty hose.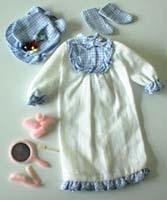 1253 Tuckered Out 1966-1967
White cotton gown, blue white check cap, matching booties, four or six pink curlers, pink brush, comb mirror.
1254 Fresh as a Daisy 1966
Yellow dress, matching tote, yellow or white lace bonnet, soft yellow low heels.
.
1255 Polka Dots N Raindrops 1966
Red vinyl raincoat, matching scarf or hood, red rain boots.
1256 Concert in the Park 1966
Navy dress, navy vest, matching navy hat, handbag, soft red low heels.
1257 Dance Party 1966-1967
Pink long sleeve dress, crocheted white hat, white nylon half slip, white hose, soft pink low heels, record player, blue and red record, chocolate sundae, metal spoon, paper napkin.
1258 Clam Diggers 1966
Yellow and orange vinyl jacket, matching hat, yellow cotton top, orange shorts, soft yellow flats or yellow low heels, mod orange sunglasses with a green stripe or rare white sunglasses with green or orange stripe.
1259 Checkmates 1966
Red plaid jacket, matching pleated skirt, white shell, red shoulder bag, soft red low heels or red heels with cut outs.
1260 First Formal 1966-1967
Gown, pink cape, short white tricot gloves, light blue soft low heels or blue heels with cut outs.
1261 Shopping Spree 1966
Sleeveless dress, red tweed coat, matching clutch purse, short white tricot gloves, soft pink low heels.
1263 Orange Cozy 1966-1967
Orange velour dress with black yarn trim, matching hood, orange knit hose, short black tricot gloves, soft black ankle boots and a Francie hanger.
1264 Swingin' Skimmy
1966-1967
Long sleeved knit mini dress, yellow hood, red ribbed knit hose, soft red ankle boots.
1265 Hip Knits 1966-1967
Turquoise knit blouse, matching hose, blue skirt with braided belt, or yellow vinyl belt, yellow soft buckle flats with gold buckles or soft yellow buckle flats.
1266 Quick Shift 1966-1967
Hot pink felt jumper, olive knit turtleneck shirt, matching olive thigh high stockings, pink buckle flat shoes.
1267 Go Granny Go
1966-1967
Green print granny gown, pink squishy low heels, pink and blue record player, album cover with red record.
1268 Style Setters 1966-1967
Blue velvet cape, matching hood both lined in dress fabric, hot pink multi-colored jersey dress, thigh high stockings, squishy low blue heel shoes.
1269 Leather Limelight 1966-1967
Leather like white with hot pink trim; skirt, pants and hood, paisley fabric print shirt and slim skirt, white boots with hot pink trim.
1262 Fur Out 1966-1967
Faux fur coat with vinyl black tie belt lined in red, red hood and thigh high stockings, black vinyl boots spats with tiny button closure, black buckle flat shoes, red vinyl mittens.
1042 Francie and her Swingin Separates
Gift Set Sears 1966
A TNT Francie doll with blue slacks, red flowered sleeveless top, yellow ruffled crop top, red skirt, yellow low heels.
1044 Sportin' Gift Set JC Penney 1966
A TNT Francie doll, white tennis dress, white socks, tennis shoes, racket and pink skating costume matching hose, blue vinyl mittens and white ice skates.
Francie Clothes 1966-1969 | 1970-1975 | Japanese Dolls Francie | Casey & Twiggy