Francie is Barbie's modern cousin, she shares her wardrobe with same sized Casey and Twiggy
Francie 1271 Slumber Number
1967-1968
Yellow tricot and lace short top and panties, yellow felt slippers with pink pompoms, yellow felt mask with pink trim and painted on closed eyes.
Francie 1270 Groovy Get-Ups 1967
Wide pink corduroy short coat, pants and narrow skirt with wide black belt, striped knit top, thigh high stockings & hood and black low boots.
Francie 1272 Hi-Teen 1967-1968
Striped knit top, rose pleated skirt with vinyl buckle and pink low heels.
Francie 1273 Side-Kick! 1967-1968
Navy & white checked dress with eyelet trim red bow at neckline and tiny red buttons, matching hat with red ribbon and low red heels.
Francie 1274 Iced Blue 1967
Turquoise and lace a-line dress, white lace hose and squishy low white heels.
Francie 1275 Bells 1967
Blue and white bell bottom pants and matching cap, red print top trimmed with the blue fabric, red shiny shoulder bag, blue low flat buckle shoes.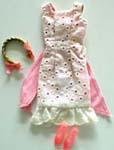 Francie 1276 Summer Frost 1967
Pink lined white eyelet sheath dress with pink ribbon back bow, blonde or brunette braid on a metal headband with pink bow accents and light pink low heel shoes.
Francie 1277 Sun Spots 1967
Pink and yellow sun print dress with high waist, pink vinyl tote bag with daisy accents and matching fabric hat, hot pink low heel shoes.

Francie 1279 The Bridge Bit 1967
White knit sweater trimmed with royal blue and green stitching on front, blue stretch slacks, pink throw pillow with flower design, green "How To Play Bridge" book (photo missing "How to Play Bridge" book), deck of 52 cards and blue low buckle shoes.
Francie 1280 Cool White 1967
VHTF - White organdy dress with embroidered flowers, white lace stockings, white hair bow, white soft heels.
Francie 1281 Clear Out! 1967
Clear with red trim vinyl rain coat and hood, red, white and blue wide stripe knit long sleeve dress, clear red trimmed boots and a red hat box with a red, white and blue decal on front with Rome, Paris and London.
Francie 1283 Sweet 'N Swingin' 1967
Pink cotton under dress with lace dress over this, sheer pink coat with flower ribbon trim, pink low heels and white bag.
Francie 1284 Miss Teenage Beauty 1967
Pink and blue floral appliqué on white nylon sleeveless blouse, pink sheer skirt lined with pink satin and wide bottom ruffle, red "Miss Teenage Beauty" ribbon sash, silver tone loving cup with "F" monogram, clear crown with silver glitter, red rose bouquet of six flowers with green fern greens and soft low high blue heels.
Francie 1286 Tweed Somes 1967
Pink and tweed sheath dress with pink vinyl belt, tweed coat lined in pink and matching cap, white lace thigh high stockings, green and white double strand of beads necklace, hot pink low heel shoes and apple green hat box with decal sticker in pink and green stripe with Francie's name on front.
Francie 1287 Border Line 1967
Yellow linen pleated sleeveless dress with navy trim, matching jacket and floppy brim hat, yellow lace thigh high stockings and blue low buckle fat shoes.
Francie 1288 In Print 1967
Floral long sleeved over dress with bottom ruffle and matching bonnet, green cotton lace trimmed under dress, yellow soft low heel shoes.
Francie 1289 Note the Coat! 1967
White crepe coat with gold tone bead trim.
Francie 1291 Check This 1967
Black and white taffeta high waisted dress with yellow and white daisy flowers, yellow tricot scarf with single white daisy, (photo missing short white tricot gloves), and shoes are white or yellow cut out low heels.
Francie 1290 Denims On! 1967
Striped knit top and linen jumper with navy vinyl attached belt, blue jacket with double gold tone bead accent, with matching floppy brim hat and blue low buckle flat shoes.
Francie 1292 Summer Coolers 1967
Yellow sun dress with blue and red floral trim, and matching tote bag, matching bra and panties in blue & red floral print, red cork sandals with red ties, hair braid with red ribbon, paper beach umbrella (not shown in photo) and black plastic granny eyeglasses.
Pak For Francie
Dressmakers 1967
Three zippers, two belt buckles, lots of beads in different colors.
Francie Pak Footnotes 1967
Clear and red boots, white boots with a top red edge, red, orange, white and blue low closed toe heels, blue and black buckle low heels and green low short boots.
Francie Pak Pleat Neat 1967
Shown in the deep pink color, other fabric colors were beige or deep blue corduroy, yellow low heel shoes.
Francie Pak Undies 1967
Pink panties with supporters, pale pink and yellow nylon briefs, floral half slip and white lace hose.
Francie Pak Mod Hatters 1967
Black or white faux fur hat, white lace scarf, red laminate scarf and blue with eyelet brim hat.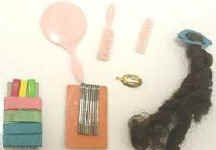 Francie Pak Hair-Do's 1967
Long blonde or brunette hair braid with gold tone barrette, blonde or brunette headband with pink bows, pink comb, brush and mirror, extra gold barrette, 10 hair pins, yellow, green and pink hair clips, one green and two blue ribbons.
Francie Prom Pinks 1967 Sears
Pink gown with satin bodice and long skirt trimmed with gold, matching pink satin long coat, missing gold braid bow on a headband, gold clutch purse and low heeled pink shoes.
Francie 1294 Go Gold 1967 Sears
Gold plaid lame' sleeveless top, gold lame' slacks with matching jacket (the reverse side of the lame' is hot pink) with gold belt and gold bead buttons on front, pink flat buckle shoes.
Francie 1293 Partners in Print
Sears 1967
Olive green floral jacket with white lace trim, matching slim skirt and pants, pink plastic hat box with pink, green and white stripe decal with Francie on it and pink heeled shoes.
Francie Furry Go Round 1967 Sears
Orange suede cloth coat with rows of brown fur, orange lace thigh high stockings, orange hood with gold bead closure and tall orange vinyl boots.
Francie Clothes 1966-1969 | 1970-1975 | Japanese Dolls Francie | Casey & Twiggy
Francie Vintage Doll Resources:
Collectors Encyclopedia of Barbie Dolls & Collectibles book in 1984 by Sibyl DeWein and Joan Ashabraner.
Barbie Doll Fashion: The complete history of the wardrobes of Barbie doll, her friends, family, vol. 1 1959-1967 in 1990, vol. 2 1968-1974 in 1997 by Sarah Sink Eames.
Francie & her Mod, Mod, Mod World of Fashion book in 1996 by Joe Bitman.