Francie Clothes 1966-1969 | Japanese | 1970-1975 Francie Dolls 1966-1976 Casey, Twiggy Dolls 1967-1968
Francie is Barbie's modern cousin, she shares her wardrobe with same sized Casey & Twiggy.
Francie and Casey have sixteen new outfits this year.
1219 Somethin` Else 1969-1970
Yellow & pink floral print long sleeve body blouse, solid yellow skirt with six hot pink buttons & yellow buckle low heeled shoes.
1220 Land Ho 1969-1970
Red cotton nautical dress with turquoise ribbon & button trim, matching cap & turquoise buckle low flat shoes.
1221 Tennis Tunic 1969-1970
White short tennis dress with net trim matching briefs, white tennis shoes & racket with white tennis ball.
1222 Gold Rush 1969-1970
Sleeveless gold lame` bodice with orange satin skirt with gold over cage & orange cut out low heel shoes.
1223 The Yellow Bit 1969
Yellow sheer mini dress with puffed sleeves trimmed with blue flower appliqués, under skirt has is trimmed with blue braid, light blue textured thigh high stockings & dusty blue buckle flat shoes.
1224 Vested Interest 1969
Long sleeve dress with yellow top & plaid skirt, hot pink crocheted vest with gold beads for buttons & yellow cut out low heeled shoes.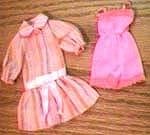 1225 Snazz 1969
Hot pink tricot body suit with orange lace trim, pink, orange & white striped mini dress with dropped waist & pink satin bow trim & hot pink low heel shoes.
1226 Snooze News 1969
Orange nightie with nylon ruffle trim with yellow flower accent & matching sheer short sleeveless gown, orange felt scuffs, comb, brush & mirror with face.
1227 Long on Looks 1969
Long sleeve white blouse with lace trim, two slim skirts in pink, pink tricot half slip, pink fishnet thigh high stockings & pink bow flat heel shoes.
1228 Sissy Suits 1969
Pink & white three piece suit with a cropped jacket with three gold beads on front, lace trim at cuffs, sleeveless white blouse with front placket trimmed with lace & three pink buttons, mini skirt with front pleat, two patch pockets with gold bead, yellow vinyl belt with pink stripe & buckle, pink tricot knee hi socks, hot pink bow shoes & pink vinyl shoulder purse.
1229 Sugar Sheers 1969
Long sleeve white dress with blue floral print body, front pleat, matching white slip with lace trim, pink fishnet stockings, pink low flat shoes, clear plastic tote with lace trim, hot pink with blue base & needle arm record player & one Barbie label plastic record.
1230 Merry Go Rounders 1969
Sheer striped coat with three gold beads on front, chartreuse satin trim at neck & cuffs, sleeveless chartreuse dress with ruffled flounce in the striped fabric, matching hat, chartreuse nylon stockings, chartreuse low bow shoes.
1231 Pink Lightning
1969-1970
Hot pink knit mini jumpsuit with two gold chains with pink buttons & diamond accents, pink & orange vinyl coat with flap pockets, matching hat, hot pink nylon stockings, pink go-go boots, & green sunglasses with pink trim.
1232 Two for the Ball
1969-1970
Gown with black velvet sleeveless bodice, full pink satin underskirt with pink lacey over skirt & pink satin waistband, matching long coat in pink chiffon with black velvet waistband with bow, three pink with diamond accent buttons on front, black covered headband and hot pink cut out low heel shoes.
1233 Victorian Wedding 1969-1970
White lace wedding gown with leg o mutton sleeves, white satin with grosgrain ribbon & tulle veil, bouquet of five white velvet flowers with pearl centers, white cut out low heel shoes.
1234 The Combination
1969-1970
White faux caracul curly coat lined in paisley print trimmed with blue velveteen, matching hat with green knit band, long sleeve paisley blouse, green knit shell, blue velveteen skirt with gold chain belt, green knit stockings, green go-go boots.
Francie Clothes 1966-1969 | 1970-1975 | Japanese Dolls Francie | Casey & Twiggy
Francie Vintage Doll Resources:
Collectors Encyclopedia of Barbie Dolls & Collectibles book in 1984 by Sibyl DeWein and Joan Ashabraner.
Barbie Doll Fashion: The complete history of the wardrobes of Barbie doll, her friends, family, vol. 1 1959-1967 in 1990, vol. 2 1968-1974 in 1997 by Sarah Sink Eames.
Francie & her Mod, Mod, Mod World of Fashion book in 1996 by Joe Bitman.