Barbie Dolls 11 1/2"
Barbie Clothes
1975-1976 | 1977+
Doll & History Bild Lilli
Dolls 12"
Ken Clothes
Dolls 9 1/4"
Skipper Clothes
Dolls 11 1/4"
Francie Clothes
Dolls 6 1/4"
Dolls 11 1/2"
Clone Dolls

Ken got nine new outfits for 1963, all the 1962 outfits were repeated except 780 In Training and six new Pak items were available. The 1963 Ken doll is the same as the 1962 doll.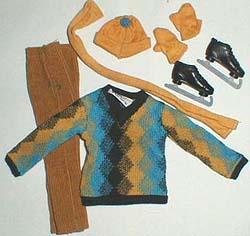 791 Fun on Ice 1963-1964
Diamond design V neck knit sweater with black knit edging, gold corduroy zippered pants slacks, black ice skates with silver blades, gold knit scarf, gold knit mittens and gold knit hat with a blue pom-pom on top.
792 Play Ball 1963-1964
Light gray and white striped short sleeve uniform with red stripe trim on shirt and down the sides of the matching pants, with attached black plastic belt with gold buckle, red knit knee-hi socks, black cleats shoes, red plastic baseball hat with a white "M" painted on the front, tan plastic baseball bat, brown plastic mitt and a white baseball.
793 Doctor Ken 1963-1965
White side buttoned short sleeve Doctor's shirt, white zippered slacks, white cotton socks and white shoes, his accessories are a black plastic medical bag with "MD" on the side, black and silver stethoscope, tie on white mask , white hat, a black and silver head mirror.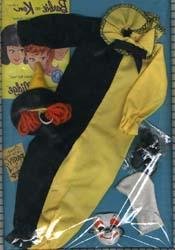 794 Ken Masquerade 1963-1964
One piece yellow and black clown suit with a ruffled yellow collar, white cotton skull cap, yellow and black felt hat with orange yarn hair, black shoes, plastic clown mask and a "Come To My Party" yellow invitation. Masquerade 944 is Barbie's matching outfit and 1903 Masquerade is Skippers outfit all co-ordinate for Halloween. Cute.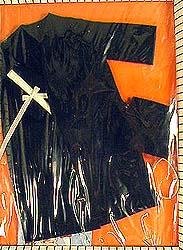 795 Graduation 1963-1964
Black cotton traditional robe gathered yoke and long sleeved, (no collar with Ken's) black felt hat with tassel and a diploma which is a piece of white paper tied with a white ribbon. Barbie has a matching outfit #945 Graduation 1963-1964.
796 Sailor 1963-1965
White authentic sailors suit, with a separate black tie. The shirt has a side zipper and embroidered sailor insignia on the upper sleeve, black tie, white bell bottom zippered pants, blue denim duffle bag with "USN" on front, white knit sock, black shoes, a white plastic sailor hat.
797 Army and Air Force 1963-1965
Army outfit consists of a tan shirt, tan zippered pants, tan hat, tan tie, tan socks, brown belt and light brown shoes. The Air force outfit would use the navy blue hat, navy blue belt, navy blue tie, navy blue socks, navy blue shoes and both uniforms used the set of metal wings and a poster.
798 Ski Champion
1963-1964
Red quilted jacket with zippered front and tan print lining, black zippered stirrup pants, black knit ski cap with burgundy pompon, black cotton mittens, black ski boots, brown ski's, wooden poles with black plastic tips and handles with brown "stops", (which always seem to be missing) and green goggles.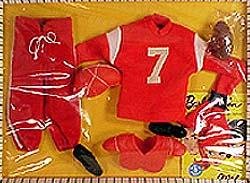 799 Touchdown 1963-1965
Red knit jersey shirt with white band inset sleeves white number seven in felt on the chest, red cotton knickers with padded legs and laced fly, knee socks in red with a navy band, black cleats shoes, red plastic helmet with a white stripe, red plastic molded shoulder pads and brown plastic football.
Pak Snorkel Gear 1963
This pak item consisted of the knit striped swimsuit, green fins, green mask with clear plastic front and green snorkel.
Pak Boxing 1963
Blue satin trunks with white side stripes, white jersey knit socks, black high top shoes, brown plastic boxing gloves, yellow terrycloth towel.
Pak Hunting Shirt 1963
This contained the red plaid long sleeved shirt with three buttons on front, snaps beneath for closure, red vinyl hunting cap, black hiking boots and a brown and black plastic gun with an "M" on the handle. The jeans were sold separately as a Pak item and were not included.
Pak Jeans (1963) - not shown; same jeans as 1409 Gone Hunting sold in 1964.
Pak Sweat Shirt 1963
Orange sweatshirt with a hood, white drawstring and front pocket.
Next year this will join the Snorkel Gear outfit to become 1406 Skin Diver.
Pak Tan Cardigan Sweater 1963
Tan and white cardigan sweater trimmed with white knit edging and four gold bead buttons.
This is also part of 1409 Fraternity Dance in 1964 with tan zippered pants and a white polo shirt
related Ken Clothes 1961-1967 | 1969-1976 or Dolls Ken | Allan
----
Cookie Policy | Privacy Policy | Affiliate Policy | About Us
All trademarks are respective of their owners with no affiliation to this site

Doll Reference © Copyright 1999-2023 all rights reserved including photos & content