Barbie Dolls 11 1/2"
Barbie Clothes
1975-1976 | 1977+
Doll & History Bild Lilli
Dolls 12"
Ken Clothes
Dolls 9 1/4"
Skipper Clothes
Dolls 11 1/4"
Francie Clothes
Dolls 6 1/4"
Dolls 11 1/2"
Clone Dolls
Skipper had ten new outfits for 1972
3291 Nifty Knickers (1972)
Long sleeve yellow shirt, red bib with yellow stitching and two yellow buttons, blue knickers with red flowers, red knee high boots.
3292 Play Pants (1972)
Denim shorts with attached red suspenders and red heart appliqué on front, red on white print short sleeve blouse, red knit knee high socks and whit tennis shoes.
3293 Dream Ins (1972)
Pastel flannel nightgown with hot pink or bright yellow sheer ruffle, matching scuffs. Shown is the pink version minus the scuffs also a yellow version.
3295 Turn Abouts (1972)
Red print knit pants, mini skirt, top and hat, yellow and red ribbed knit long sleeve shirt and shorts, red shoulder bag and red Taiwan flat shoes.
3296 Red, White N Blues (1972)
Red, white and blue maxi dress, red long sleeve tricot shirt, blue shorts, red tricot knee high socks and blue Taiwan flat shoes.
3297 Party Pair (1972)
Pink velvet dress with white long sleeves and placket, floral trim on hem, white faux fur coat trimmed on hem, cuffs and collar with pink velvet, pink sheer hose and pink Taiwan flat shoes.
3372 Fun Runners (1972)
Yellow sleeveless tricot top, blue jeans, red vinyl belt, red sunglasses, red and white print scarf and white tennis shoes.
3371 Super Snoozers (1972)
Two piece pink cotton pajamas, yellow fest slippers, yellow plastic mirror, three hair rollers and brush and comb. This co-coordinated with Barbie & Francie's outfits in the same fabric.
3373 Flower Power (1972)
Red & white calico maxi skirt, pink & white shorts/skirt, white blouse with puffed short sleeves, red velvet belt with black braids, red Taiwan flat shoes.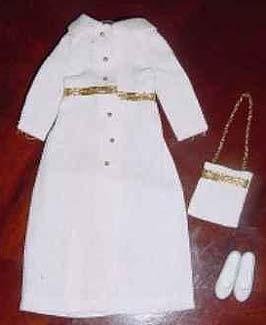 3374 White, Bright 'n Sparkling (1972)
White maxi coat with gold braid belt and gold buttons, matching white shoulder bag and white Taiwan flat shoes.
1179 Skipper doll Pose n' Play
Swing Gym Gift set 1972-1973 Sears
1179 Skipper Pose n' Play doll only
related Dolls Skipper & Ginger | Skooter, Fluff & Tiff Clothes 1964-1970 | 1971-1976
Skipper Vintage Doll Resources:
Collectors Encyclopedia of Barbie Dolls & Collectibles book in 1984 by Sibyl DeWein and Joan Ashabraner.
Skipper Barbie dolls little sister, Tutti and Todd identification and value guide book in 1998 by Scott Arend, Karla Holzerland, Trina Kent.
Cookie Policy | Privacy Policy | Affiliate Policy | About Us
All trademarks are respective of their owners with no affiliation to this site

Doll Reference © Copyright 1999-2023 all rights reserved including photos & content