Barbie Dolls 11 1/2"
Barbie Clothes
1975-1976 | 1977+
Doll & History Bild Lilli
Dolls 12"
Ken Clothes
Dolls 9 1/4"
Skipper Clothes
Dolls 11 1/4"
Francie Clothes
Dolls 6 1/4"
Dolls 11 1/2"
Clone Dolls
This was a big year for Mattel as they introduced a little sister doll for Barbie named Skipper, she is 9 1/4" tall and has her own wardrobe of ten outfits and one Gift set.
1900 Under Pretties 1964-1965
White dotted sheer nylon half slip, white tricot panties, light pink mirror, pink comb, pink brush, six pink hair curlers with six metal Barbie pins, pink bath scale and Skipper booklet. Barbie has a similar outfit.
1901 Red Sensation 1964-1965
Red cotton sleeveless dress with four gold bead buttons, straw hat with red ribbon band, short white tricot gloves, white tricot socks, red Japan flats, Skipper booklet. Barbie has a matching outfit.
1902 Silk 'n Fancy 1964-1965
Red velvet with white satin full skirt dress has either red and white lace or all white lace ruffle under the hem, gold elastic headband, white tricot socks, black Japan flats. This co-ordinates with the red velvet "Dress coat" and Barbie has a matching outfit to both as well.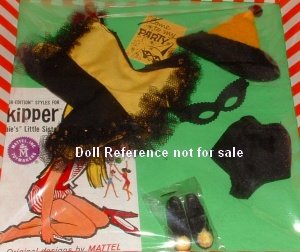 1903 Skipper Masquerade 1964-1965
Black and yellow cotton short dress, black cotton panties, black and yellow felt hat, black plastic mask, black Japan flats with yellow pompons, yellow paper "Come to my Party" invitation. Both Barbie (#944) and Ken (#794) have matching Masquerade outfits.
1904 Flower Girl 1964-1965
Yellow cotton sleeveless with lace over skirt flower girl dress, yellow flower headband, bouquet of paper flowers, short white tricot gloves, white tricot socks, white Japan flats. Barbie has a matching yellow bridesmaid gown and both were featured in a Wedding Day gift set.
1905 Ballet Lessons or Ballet Class 1964-1965
Pink lame` with pink ruffled tulle with gold glitter flecks tutu, black leotard, black tights, pink satin ballet bag with drawstring, white vinyl ballet slippers, floral headband, white paper Ballet program. Barbie's matching outfit is 989 Ballerina 1961-1965.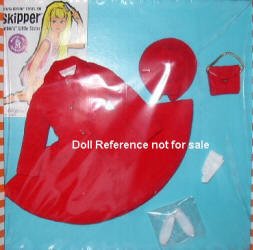 1906 Dress Coat 1964-1965
Red velvet coat, red velvet purse with gold braid handle, red velvet hat, short white tricot gloves, white Japan flats and Skipper booklet. Barbie's co-coordinating outfit is #939 Red Flare 1962-1965.
1907 School Days 1964-1966
Pink cardigan sweater, white short sleeve cotton blouse, pink flannel pleated skirt, wooden bowel with three balls of yarn (red, green and pink) with needles, either pink or white knee-hi tricot socks, soft black Japan flats. Barbie has a matching outfit #0957 Knitting Pretty in pink 1964.
1908 Skating Fun 1964-1966
Red and white nylon body suit, red velvet skirt lined with red calico print with suspenders made of red calico, white faux fur hat with red calico ties7, white faux fur muff lined in red calico, white vinyl ice skates with silver blades. Note; since Skipper has flat feet her skates will be straight across, not angled as Barbie's are, due to the arch of her high heel feet.
1909 Dreamtime 1964-1966
White with pink polka dots pajama top, matching bottom, pink flannel robe with a cat appliqué on the pocket, blue princess telephone, red paper phone directory, blue felt cat, dark pink felt slippers.
1021 Skipper Party Time Gift set 1964-1965
1021 Skipper Party Time gift set 1964-1965
Skipper doll dressed in her red sailor type one piece swimsuit, brass headband, red flat shoes, wire stand booklet and box, including the complete outfits; 1902 Silk 'n Fancy and matching red 1906 Dress Coat outfit.
Also issued as Skipper and her friend Skooter Party Time gift set in 1965.
related Dolls Skipper & Ginger | Skooter, Fluff & Tiff Clothes 1964-1970 | 1971-1976
All trademarks are respective of their owners with no affiliation to this site

Doll Reference © Copyright 1999-2023 all rights reserved including photos & content