1920-1931 Gem Chubby Kid doll 12 1/2", all composition, jointed only at the shoulders, unmarked, molded painted hair or wigged, paper label on bottom of foot Gem Chubby Kid a carnival doll made by Gem Toy Company
Identify a composition Buddy Lee doll by the mark on their back: Buddy Lee in a triangle or unmarked with Lee labeled clothing) and hard plastic dolls are marked in raised letters Buddy Lee.
If doll is unmarked, wigged, without Lee labeled clothing, long painted eye lashes, its probably a Gem Chubby Kid doll or a similar Carnival doll.
Some of the Buddy Lee outfits are; Coca Cola (white with red stripes), Football Player, Gas Station attendant, Phillips 66, John Deere outfit, The Genuine Jiffy Steamer Company, Train Engineer, Railroad worker (Gandy Dancer), U.S. Army Finance Corps cowboy, Baseball Player and there were surely others. Black Magic Buddy Lee doll, is a composition black doll with Black Magic embroidered in red or on a label along with a Lee Jeans label on his denim hat.
In the 1990's a reproduction Buddy Lee doll in a Coca Cola uniform was made in white with a green stripe and possibly other outfits, too.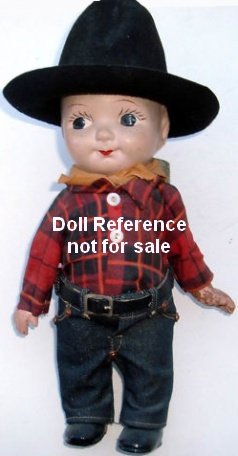 1930s Buddy Lee doll, 12 1/2",
U.S. Finance Corps cowboy doll,
All composition doll, jointed only at the shoulders, with black painted cowboy boots