By Country
By Material
By Type

Shop for Uneeda Tiny teen vintage dolls
1962 Uneeda Tiny Teen Suzette and Tiny Teen Bob
as The Princess and The Prince dolls are W. T. Grant Exclusives
Uneeda Tiny Teen Suzette Doll 1957-1960s - Little Miss Revlon competitors, have rigid vinyl bodies with softer vinyl heads and rooted hair, sleep eyes, most came with pierced ears with pearl earrings, doll is jointed at neck, arms, some have a twist waist, jointed hips with high heel feet. Dolls came in various hair colors & styles as you can see from JoAnn's collection, they had as many outfits to choose from as Barbie & Ken. All outfits shown are original Suzette, except the 2nd from right in black with hot pink trim is a (OOAK) one of a kind outfit. Uneeda Tiny Teen Suzette doll is marked Uneeda, U or unmarked.
All photo's courtesy of whatsnot2like
Uneeda Tiny Teen Suzette's in original dress's in turquoise with pointed collar and ribbon tie and the same style in pink polka dots, and more NRFB outfits behind them, showing the original packaging.
Uneeda Tiny Teen Suzette dolls in ball gowns, silver lame` with sheer white overskirt which has silver dots with hat and blue brocade gown with arm pieces and hat with original boxes.
These two ladies have the twist waist and have necks.
Uneeda Tiny Teen Suzette dolls various hair styles and colors, L to R;
These Suzette's are referred to as "no neck" as the heads seem to sit right on the body, you can see the difference between these and the dolls pictured just above, that have a neck.
Blonde short hair in original blue gown, Brunette short hair redressed in a cowgirl outfit and Platinum long hair redressed in a pink gown. These three ladies also do not have the twist waist, and are from about 1959.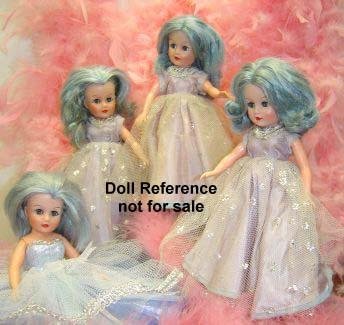 1962 Uneeda Tiny Teen Suzette doll Blue Fairy by Disney - have blue rooted hair and fancy gowns, each doll came with a heavy silver cardboard crown and a wand.
All of these dolls do not have twist waists, doll in the gown on lower left is whatsnot2like's OOAK dolls - very nice.
Uneeda Tiny Teen Bob Doll 1957-1960s
Uneeda's Tiny Teen Bob doll is 11" tall, is Suzette's boyfriend, he's unmarked or marked U, Uneeda and as you can see, has an extensive clothing line, he was as much a clothes horse as his girlfriend Suzette.
See below for lots more photos and descriptions
Here is a nice head shot to compare the various 11" tall teen boy dolls left to right;
1. Vogue Jeff doll, Vogue Dolls
2. Woolworth's Jim doll, unmarked
3. Uneeda Bob doll, unmarked, U
Uneeda Tiny Teen Bob in a plaid sport coat, white shirt with bowtie, next wearing a baseball uniform, then Senior Prom a formal white tuxedo suit. What a spiffy guy.
related Uneeda Dolls 1917-1961 | 1962-1979 | Dollikin | Tiny Time Teen
Cookie Policy | Privacy Policy | Affiliate Policy | About Us
All trademarks are respective of their owners with no affiliation to this site

Doll Reference © Copyright 1999-2023 all rights reserved including photos & content